BNA bulk membership scheme
Back to group membership schemes
Are you in a community of neuroscience enthusiasts?
Do you run a course or department with undergraduates, postgraduates or lecturers that would all benefit from joining the BNA?
Then BNA bulk membership could be for you!
---
BNA bulk membership in a nutshell
Receive a 10% discount on subscription fees when signing up a group of members from any department at the same time
Membership types can be mixed and matched across instututions and companies. Click here for membership categories.
Enjoy full benefits of BNA membership whilst saving administrative time and money
Provide an enhanced student experience for your undergraduates or postgraduates, making them part of the neuroscience professional community with access to networking, careers advice, writing opportunities and much more
Give your employees direct connections with the wider neuroscience community
Ideal for bulk registration of students or for company employees who have a keen interest in all things neuroscience
How does this work?
Simply email the BNA office at office@bna.org.uk and we'll sort out the details.
All you will need to do is send us a list of people becoming members (we'll arrange for the latter by secure file transfer). The BNA will do the rest! We will sign up those listed for membership, contact them and welcome them to the BNA community, answer any questions and instruct them on how to begin enjoying their membership benefits straight away.
Why join the BNA?
Become part of the neuro-community, with monthly bulletins, networking events, career advice, educational resources, access to funding and more. See list of benefits for different membership types here.
What about payment?
A consolidated invoice for all memberships (less 10% discount) will be sent to the responsible person within your institution or company. You make in a single payment, by BACS, debit or credit card. Prices for each membership type can be found here.
If your institution is not in a position to cover the costs of membership for the entire group, we recommend initally paying the invoice and then claiming the fees back from each member. We can provide a detailed invoice of each new member and the cost of their membership to aid with this.
Which institutions currently benefit from bulk membership?
Cardiff University
King's College London
Queen Mary University of London (QMUL)
University of Central Lancashire (UCLAN)
University of Edinburgh
University of Exeter
University of Leeds
University of Oxford
University of Warwick
Member reviews:
Jane Haley - University of Edinburgh
"Each year we bulk register our Translational Neuroscience PhD students and Integrated Neuroscience Masters students for BNA student membership. It couldn't be easier - we send the BNA the list of our students for that year (names and university email addresses) and the BNA office do the rest, including sending us a single invoice - we even get a small discount! Our students then all receive the benefits of BNA membership from the very start of their degree, including reduced registration fees for the FENS Forum and BNA Festival of Neuroscience meetings (which they are expected to attend). It is so much easier to take this approach than having to constantly remind 50 students to register separately."
Membership Secretary: Emma Soopramanien - Queen Mary University London
"I was incredibly fortunate, my university had paid for the entire cohort's BNA membership, they do a lot to support students if they hadn't done that, I wouldn't have had the opportunity to apply for the role I'm in and actually be here today so all thanks goes to them."
Don't see your institution here? Email the BNA today (office@bna.org.uk) to set up your bulk registration.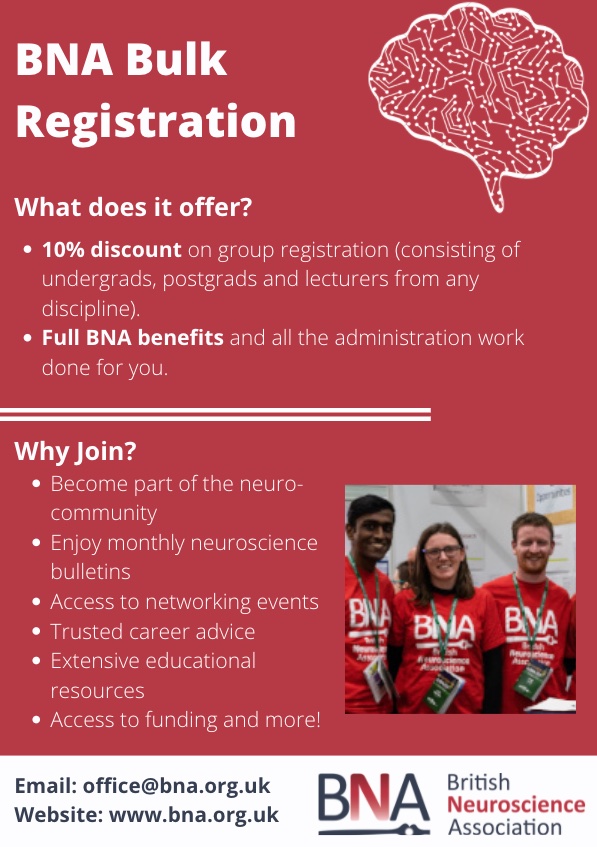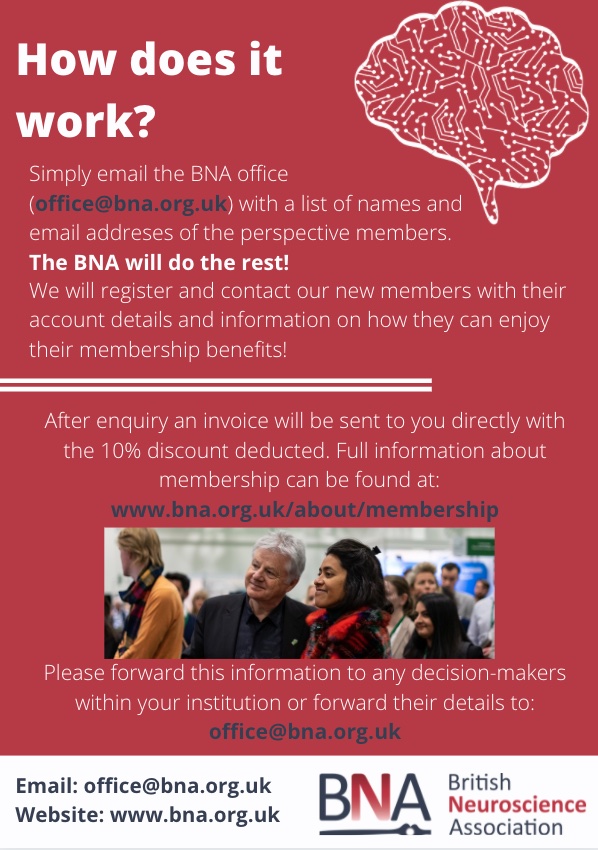 Back to group membership schemes