BNA2019 Ambassadors
Nominate an Ambassador for BNA2019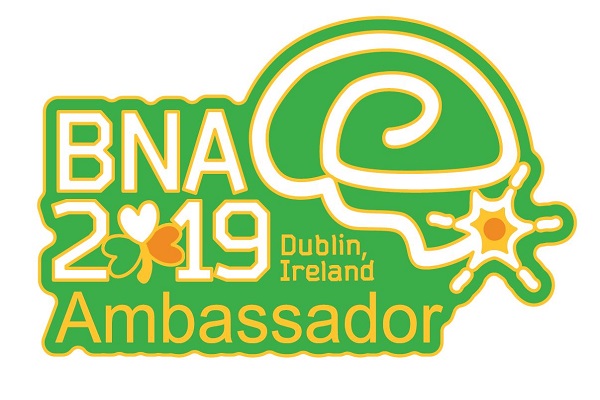 Do you know somebody who could fly the flag for the Festival of Neuroscience? Could it be you?
We don't want anyone to miss out on the opportunities represented by BNA2019, and are seeking individuals within and beyond the neuroscience community to become a Festival Ambassador to help spread the word.
Background
The largest event of its kind throughout Europe in 2019, the British Neuroscience Association - in partnership with Neuroscience Ireland (NI) and the British Society for Neuroendocrinology (BSN) - is excited to be taking the Festival outside of the UK for the first time by holding it in Dublin, Ireland. We feel that, taking place in April 2019, the timing of the Festival makes it a particularly prescient opportunity to celebrate the international nature of neuroscience.
The Festival is unique in creating a forum where multiple organisations join together to create a cross-disciplinary neuroscience event, generating a genuinely diverse and stimulating mix of interests, stimulating wide-ranging discussion on issues (reproducibility in neuroscience; 'big data'; publishing) as well as fields of clinical and discovery science.
It is an especially important platform for students and ECRs to present their work at a large international meeting (sometimes for the first time) and meet senior neuroscientists.
Please explore the scientific programme of 40+ scientific sessions and 9 world renowned plenaries, plus other features of the Festival, at www.bna2019.org.
Being an Ambassador
We ask that ambassadors help us to make members of the neuroscience community aware of the Festival and the opportunities it provides.
We will send an enamel BNA2019 Ambassador badge and ask that the ambassador wear it to relevant meetings they attend.
We will also give ambassadors access to resources such as images, PowerPoint slides and videos, digital posters and flyers, and email templates. Additionally, we can send physical copies of the flyers to distribute if requested. These could be used at meetings, lectures, Freshers' fairs, or through the world of social media using the hashtag #BNA2019.
Ambassadors should assist in promoting the Festival in the lead-up to, and during the event. These may include:
Events – Weekly neuroscience seminars & other conferences.
Mailing lists – If you are part of a university department mailing list, enquiring whether you can include BNA2019 information in newsletters
Social media – Using the hashtag #BNA2019.
Thank you
We thank our ambassadors kindly in taking on this important role, we understand that their time is valuable.
We hope that our ambassadors will be able to attend the Festival where they will be invited to attend an exclusive Ambassador meet-up during the event.
If you are interested in becoming, or would like to nominate a BNA2019 Ambassador then please contact Louise Tratt in the BNA Office (office@bna.org.uk).