BNA Community and Inclusion Officer
BNA Community and Inclusion Officer
Closing Date

28 Jan 2022

Salary

£30,000

Address

University of Bristol, UK

Duration

1 year in the first instance
The British Neuroscience Association (BNA) is a not-for-profit membership organisation whose vibrant and progressive community includes students, professional neuroscientists in academia, medicine and industry, Trustees, members of the public, supporters, and other stakeholders.
It's an exciting time for the BNA, having grown from 1,300 to 2,500 members over the last six years and greatly expanded the range and reach of our activities. One of these is an increased focus on Equity, Diversity and Inclusion (EDI).
We are therefore seeking to appoint an individual who is as excited and committed as we are to grow and shape the BNA by providing the essential support required to meet the needs of our community.
The role of the BNA Community and Inclusion Officer (CIO) will be to provide administrative, practical, hands-on support to the BNA in all our activities. The work for this role is varied, as described below, and brings you into daily contact with a range of people, from caterers to neuroscientists, students to major funders. A key responsibility is to deliver the BNA Scholars programme for students from underrepresented ethnic groups, as well as the wider aims of the BNA's EDI activities.
In this role you will become a crucial member of the BNA's small executive team, working together to create an exciting and sustainable future for neuroscience. As such, you will have the opportunity to make a lasting and meaningful difference to the BNA community and all its members.
Please do not be discouraged from applying if your current CV is not a 'perfect fit'. This job could suit someone from a range of different career backgrounds, and there is great scope for the right applicant to develop the role and make it their own. We are able to provide training for many of the specific tasks involved. If you think that this is the role for you, please write and tell us why.
Job description
The role will include:
Membership management: You will be in charge of membership administration e.g. taking payments, handling enquiries, checking eligibility, administering group membership schemes, administering bursaries, issuing invoices and ensuring that the membership database and payment systems are scrupulously maintained and up to date. You will also be closely involved with ideas for and subsequently implementing membership recruitment and retention initiatives.
Local Group (Student) Representative (LG(S)R) liaison: The BNA has around 38 Local Groups (LGs) throughout the UK and Ireland. You will work with the BNA Council member responsible for Local Groups to engage and liaise with LG(S)Rs; administer the LG funding scheme; and support the annual LG(S)R Forum.
BNA Scholars programme management: You will be responsible for delivering the BNA Scholars programme for students from under-represented ethnic groups, at the core of which is a mentorship scheme. This will include:

Maintaining frequent and consistent communication with scholars and mentors, ensuring they all meet the programme's requirements, addressing any problems that arise, providing support and/or escalating as appropriate, and identifying ways you can enhance the programme.
Organising the programme's benefits and activities, e.g. conference attendance
Coordinating key stages of the programme e.g. advertising each year, the application, selection and matching processes for Scholars and mentors, and ongoing evaluation.
Provide secretariat and administrative support for the programme's review panel e.g. organise meetings, collate paperwork, set deadlines.
Work closely with the Development Director to maintain current and identify new financial supporters for the programme

Secretariat for Council and Committee meetings: Tasks will include setting dates, sourcing venues, organising AV and catering, drafting agendas, preparing supporting documents, attending and minuting meetings (online or in person). You will be responsible for finalising and disseminating the minutes and actions.
Communications; Work closely with the BNA Head of Marketing and Communications, Chief Executive, President and Editors in order to:

create and deliver the BNA's monthly email newsletters
send the BNA's printed magazine (manage the database of recipients; liaise with printer and distributers)
generate and manage paid-for advertising in the above

Website content management: Keep information current and updated at all times; create basic images/design elements; add news articles, events, jobs etc.
Marketing: Work with the BNA Head of Marketing and Communications on social media and email campaigns to generate awareness of BNA and its activities
Events: Work with the CE, BNA Head of Meetings and Events and/or external organisations to assist in delivering online and in-person events.
Careers, education and outreach: assisting with production and/or dissemination of educational resources about neuroscience; opportunities to be involved in public engagement activities.
Other administrative support: e.g. fielding enquiries from e.g. students, members, journalists or suppliers as appropriate; processing expense claims; keeping records of funding applications; overseeing process for prizes and awards; and more.
The above covers most of the duties you will be required to handle, but inevitably there will be other projects that arise during the course of the contract with which you will be expected to assist.
Person specification
The BNA CIO needs to be responsible, accurate, reliable, and efficient to ensure the smooth running of the organisation and the BNA Scholars programme. As the first point of contact for all members of the BNA community - including scholars, mentors and supporters - it is essential that you are people-oriented, professional, courteous and capable when interacting with people by phone, email, online or in person.
You need to understand the importance for EDI in the broader context and within neuroscience, have a desire to improve EDI in neuroscience, as well as be willing to listen and learn to help develop the BNA's EDI work.
It is vital that you can operate flexibly in a small, charitable organization. We are a small team, and you will be expected to work at all levels and pitch in as a team member when required, whether that means handing out name badges, updating a website, coming up with ideas or providing information about neuroscience.
As well as being a team member, you will need to be comfortable working independently and on your own initiative; we are looking for someone who, when faced with a new task, project or problem, will have the ability to identify ways to achieve or solve it.
The ideal candidate will have:
Education to at least degree level in a life sciences subject and/or familiarity with university and science research environment
An aptitude to connect with people, particularly those in the BNA community and the Scholars programme, and to understand their needs and points of view

High competence in using Microsoft Office Suite, and confident in learning new software, online tools or web applications.

Ability to plan and deliver projects and tasks efficiently and to time. You need to be able to plan well and respond quickly.

The ability to effectively prioritise and manage workload in times of high activity and use quieter periods to plan ahead.

Excellent writing and other communication skills.

Familiarity with social media platforms, websites, webinars etc, with an aptitude to adopt other technologies as they become relevant
Confidence in representing the BNA to internal and/or external stakeholders
Desirable experience includes:
Experience of/familiarity with a membership or charity organization, as a member and/or member of staff

Familiarity with basic image processing software to produce graphics/designs (basic training can be provided)

Experience of/familiarity with mentorship (in the mentor or mentee position) or EDI programmes
BNA Organisational Chart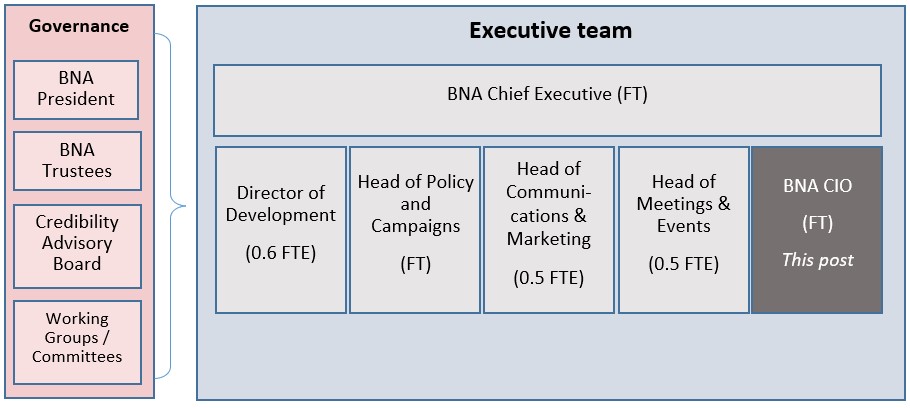 Essential details
This is a full-time role.
Salary: £30,000 pa.
You will be enrolled on a pension scheme.
Initial fixed term contract of 12 months, starting with a 3 months' probationary period. If funding allows, the intention would be to extend the position.
Around 20% - 30% of the role would be for EDI and managing the BNA scholars programme, with 70%-80% of your time spent supporting all other sectors of the BNA community (e.g. all membership management, LGRs, funding schemes etc), although the exact proportions will vary throughout the year depending on activities.
The BNA office is based at the University of Bristol in Bristol, UK. The post-holder would be expected to be in the Bristol office at least once a week (COVID19 restrictions permitting).
The BNA is able to support flexible working and we are open to how this job is filled. For instance, we would be interested in a freelance contract, working from home, or other arrangements.
The job will include some travel and out of hours' activity.
You must have the right to work in the UK when you apply.
Application procedure
The deadline for applications is 23:59 GMT on 28th January 2022.
Interviews will be held online on Thursday 3rd February 2022.
We welcome applications from all members of our community and are particularly encouraging those from diverse groups, such as members of ethnic minorities, the LGBT+ communities, and/or people with disabilities, to join us.
To apply, please send your CV and a cover letter demonstrating how you meet our person specification and would fulfil the requirements of the job description to: anne.cooke@bna.org.uk or The BNA, Dorothy Hodgkin Building, Whitson Street, Bristol BS1 3NY.
Please note that generic cover letters are unlikely to be considered.
Please do not be discouraged from applying if your current CV is not a 'perfect fit'. This job could suit someone from a range of different career backgrounds, and there is great scope for the right applicant to develop the role and make it their own. We are able to provide training for many of the specific tasks involved. If you think that this is the role for you, please write and tell us why.
If you wish to discuss any aspect of this role, please feel free to contact the BNA Chief Executive: anne.cooke@bna.org.uk, 0117 331 3159 / 0777 178 1582.
---