BNA Executive Officer: 0.5 FTE job share position
BNA Executive Officer: 0.5 FTE job share position
Closing Date

7 Jun 2020

Salary

£28,000 - £35,000 FTE (£14,000 - 17,500 per annum)

Address

Bristol, UK

Duration

18 month contract
The British Neuroscience Association (BNA) is a professional society which brings together over 2,000 scientists, students and clinicians devoted to understanding the brain and nervous system. Our activities include scientific meetings, publications, providing careers advice, promoting the latest neuroscience research, and being an advocate for the neuroscience community, all of which is united through the BNA's central message, "We are your voice".
It's an exciting time for the BNA. Over the last 1-2 years we have expanded our activities, membership and outreach, and the executive staff team has grown from 1.5 to 4.1 FTE.
Critical to sustaining and expanding the BNA's work is having excellent administrative support. We are therefore seeking to appoint a 0.5 FT Executive Officer (EO) to work alongside the current EO to create a full time job share EO for the BNA.
This post would be an ideal opportunity for someone from a neuroscience / biosciences background looking to gain experience of working in science administration, policy, marketing, events and the charity sector.
Job description
This position is a 0.5 FTE job share, working alongside the current 0.5 FTE EO who is already in post.
The role of the Executive Officer is to provide administrative and practical, hands-on support to the BNA in all our activities. The work is varied, as described below, and brings you into daily contact with a range of people from printers to neuroscientists, students to professors.
The role will include:
Membership management: You will be the first point of contact for BNA members and must be professional, courteous and capable when interacting with members by phone, email or in person. You will need to deal with their enquiries and carry out other membership administration e.g. registering new members, taking payments or checking eligibility, and will need to ensure the membership database is maintained and up to date; you will also be closely involved with membership recruitment and retention initiatives.
Coordinate and minute BNA Council and Committee meetings: Your tasks will include sourcing venues, organising AV and catering, managing attendees, drafting agendas, preparing supporting documents, attending and minuting meetings.
Local Group Representative (LGR) liaison: The BNA has around 36 Local Groups throughout the UK. You will work with the BNA Council member responsible for Local Groups (the LGR Co-ordinator) to provide information for the LGR newsletter; statistics on members in local groups; handle administration of LGR funding requests; and support the annual LGR Forum.
Website management: Posting news items, jobs and events, keeping the information and content current and updated at all times, creating basic images/design elements.
Answering enquiries: Respond to incoming emails and telephone calls from e.g. students, members, journalists or suppliers; field enquiries as appropriate.
Communications; Work closely with the BNA Head of Marketing and Communications, Chief Executive, President and Editors to plan, collate content and send the BNA's email newsletters and the BNA's printed magazine to the membership: generate and manage paid-for advertising; manage the database of recipients; liaise with printer and distributers.
Marketing: assist with social media channels and email campaigns to generate awareness of BNA and its activities and various ongoing projects; handle marketing collateral such as pens and posters.
Event management: work with the CE and/or other organisations to co-ordinate events; produce event information and online registration for the BNA website; handle practical arrangements e.g. venue, AV, catering, registration, badges; produce printed flyers and programmes; joining instructions, travel and hotel accommodation for speakers; generate sponsorship through exhibitions; manage exhibition arrangements including technical manual.
Exhibiting: work with the CE to handle all practical arrangements including booking, packing and transport of exhibition trunk to required venue, setting up the display, manning the booth throughout the meeting, setting down the display.
Invoicing and finance: processing expense claims, keeping records of funding applications.
Education and outreach: assisting with production or dissemination of educational resources about neuroscience.
The above covers most of the duties you will be required to handle, but inevitably there will be other projects that arise during the course of the contract with which you will be expected to assist.
Person specification
The Executive Officer needs to be both efficient and accurate to ensure the smooth running of the organisation, and committed to helping the BNA to grow. You need to be responsible, people-oriented, and be able to take the initiative when answering enquiries, finding information, problem-solving and sorting out logistics.
You must be competent in Microsoft Office Suite, web-based content management systems and social media platforms, and confident in learning new software or web applications.
It is essential that you are accurate, reliable, and efficient.
It is vital that you can operate flexibly in a small, charitable organization. We are a small team, and you will be expected to both work at all levels and pitch in as a team member when required, whether that means handing out name badges, updating a website, or providing information about neuroscience.
As well as being a team member, you will need to be comfortable working independently and on your own initiative. We are looking for someone who, when faced with a new task, project or problem, will have the ability to identify ways to achieve or solve it.
The ideal candidate will have:
Experience of a membership or charity organization
Education to degree level in a life sciences subject and/or familiarity with university and science research environment
Confidence in using all forms of communication and familiarity with social media platforms, websites, webinars etc, with an aptitude to adopt other technologies as they emerge
Good writing and other communication skills
An aptitude to connect with people, particularly those in the BNA membership, and understand their needs or points of view
Ability to plan and deliver projects and tasks efficiently and to time. You need to be able to plan well and respond quickly.
Confidence in representing the BNA to internal and/or external stakeholders
The ability to effectively prioritise and manage workload in times of high activity and use quieter periods to plan ahead
Familiarity with basic image processing software to produce graphics/designs
Organizational structure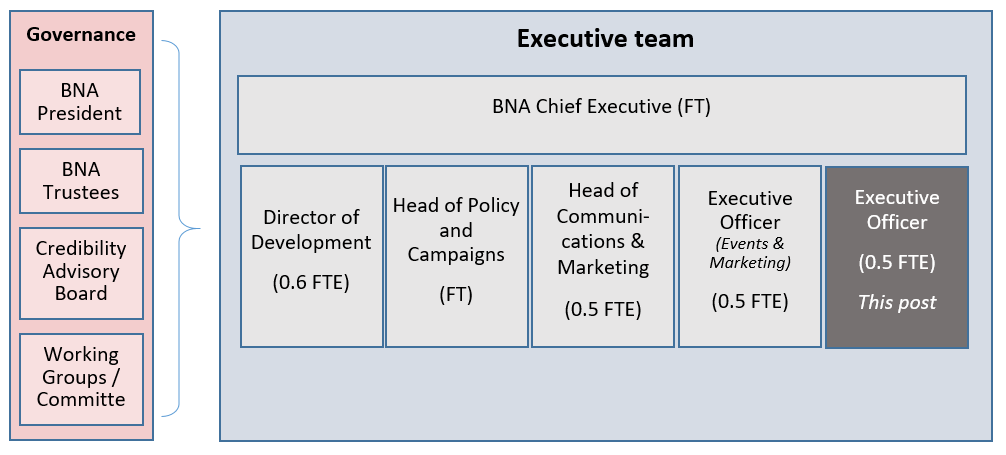 You will be working as a member of the BNA Executive team. You will work particularly closely with the other Executive Officer and with the Chief Executive; however, you will be expected to interact with all members of the team across all activities.
The BNA is overseen by the Board of Trustees, headed by the President; this is the decision-making body of the organization. The BNA President and CE work together closely to deliver the BNA's work. Both the Trustees and Executive team also have input from BNA Advisory Committees.
You will also work with external organisations which will help you to perform your role.
Essential details
This is a part-time 50% FTE job share role.
Salary: £28,000 - £35,000 FTE (£14,000 - 17,500 per annum)
Fixed term contract of 18 months, starting with an initial 3 months' probationary period.
The BNA is based at the University of Bristol, where you are likely to work in a shared office.
The job will include some travel and out of hours' activity. You will need to attend the main BNA event, the Festival of Neuroscience, taking place 11-14 April 2021 in Brighton, UK; and you will be expected to attend other BNA-run events as far as practicable.
You must have the right to work in the UK when you apply.
Application procedure
The deadline for applications is midnight GMT on Sunday 7th June. Please note that this job was orginally advertised with a deadline of 31st May, but has now been changed to 7th June 2020.
Interviews will be held online 10th - 16th June.
We welcome applications from all members of our community and are particularly encouraging those from diverse groups, such as members of the LGBT+ and BAME communities, to join us.
To apply, please send your CV and a cover letter demonstrating how you meet our person specification and would fulfil the requirements of the job description. Please send to: office@bna.org.uk
Please do not be discouraged from applying if your current CV is not a 'perfect fit'. If you think that this is the role for you, please write and tell us why.
If you wish to discuss any aspect of this role, please feel free to contact the BNA Chief Executive: anne.cooke@bna.org.uk, 0117 331 3159 / 0777 178 1582.
---