7th BRAIN Initiative Investigators Meeting
External Event - 15th Jun to 17th May 2021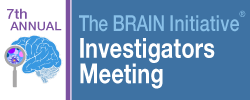 The 2021 BRAIN Initiative® Investigators Meeting will virtually convene BRAIN Initiative awardees, staff, and leadership from the contributing federal agencies (NIH, NSF, DARPA, IARPA, and FDA), plus representatives and investigators from participating non-federal organizations, and members of the media, public, and Congress. The purpose of this open meeting is to provide a forum for sharing exciting scientific developments and potential new directions and identifying areas for collaboration and research coordination.
In addition to live presentations and discussion sessions with presenters, this year's virtual meeting experience offers exciting new opportunities to browse content, interact with poster presenters and exhibitors, as well as network with your colleagues! On Demand sections will open in early June 2021.
Posters
The meeting will showcase cutting-edge research from hundreds of BRAIN Initiative researchers covering the spectrum of neuroscience!
Exhibits
A limited number of virtual exhibit booths are available for organizations that may wish to promote their scientific endeavors.The deadline for submitting your intent to exhibit with us is April 30, 2021.
Networking
New this year, we are offering several options for you to make the most out of the meeting by engaging with poster presenters, exhibitors, and speakers as well as networking with peers.
Click here for more information and to register.