A Day on Neuroscience
External Event - 30th Jun 2019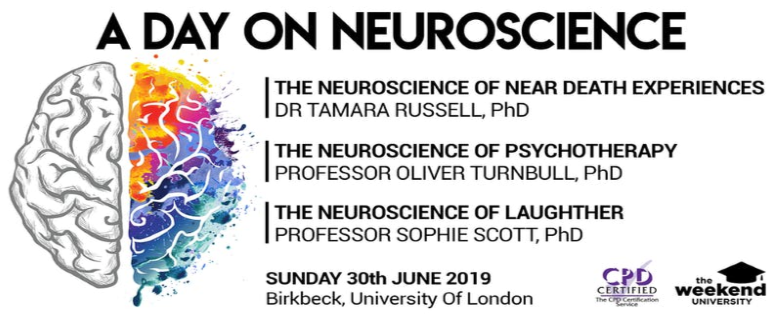 BNA members receive 10% discount with the code:
BNA*
*Meeting organisers will verify BNA membership as standard procedure
Explore the mysterious inner workings of the human mind in this series of talks from leading neuroscientists and university professors.
Right now, tens of billions of neurons are working together in your brain so you can read these words.
How does this happen?
For the longest time, the brain was life's greatest mystery; something we never thought we'd understand.
Now, recent developments in neuroscience are beginning to shed some light into the mysterious inner workings of this incredible organ, and the findings are nothing less than astounding.
In this series of talks, three of the UK's leading neuroscientists will explore:
The Neuroscience of Near Death Experiences; what happens in your brain during a near death experience?
The Neuroscience of Psychotherapy; can psychotherapy re-shape and re-wire your mind, and create lasting changes?
The Neuroscience of Laughter; what is the brain basis of laughter, and why did it evolve in humans?
You'll learn how these insights can deepen your self-awareness, and enhance your experience of everyday life.
---
Lectures & Speakers
The Neuroscience of Near Death Experiences - Dr Tamara Russell, PhD
Dr. Tamara Russell is a clinical psychologist and neuroscientist who works with individuals and organisations advising on how to use mindfulness techniques to optimise performance and improve mental and physical well-being. She is the Director of the Mindfulness Centre of Excellence, London, which has as its aim the evaluation of creative yet authentic mindfulness applications for all spheres of life.
She specialises in delivering mindfulness training in the health sector, running introductory workshops for mental health workers and other health professionals. She is also the co-founder of 'The Death Incubator' - an immersive and interactive learning experience which aims to improve individuals' understanding of how to relate to end of life experiences.
The Neuroscience of Psychotherapy - Professor Oliver Turnbull, PhD
Professor Turnbull is a neuropsychologist, with an interest in emotion and its many consequences for mental life. He is also a clinician, whose work is with patients with neurological lesions, especially those who have suffered cerebro-vascular accident (stroke) and traumatic brain injury.
He is the author of roughly 150 publications on these topics, and (together with Mark Solms) is the co-author of the popular science book 'The Brain and the Inner World', which has been translated into 11 languages. For many years, he was the Editor of the interdisciplinary journal Neuropsychoanalysis, and Secretary of the International Neuropsychoanalysis Society.
The Neuroscience of Laughter - Professor Sophie Scott, PhD
Professor Sophie Scott is a British neuroscientist, Wellcome Trust Senior Fellow at University College London, and a pioneering researcher in the science of laughter. She was the recipient of a Provost's Award for Public Engagement in 2012, and her 2015 TED talk: 'Why we Laugh' has been viewed more than 3 million times.
Professor Scott's research investigates the cognitive neuroscience of voices, speech and laughter - particularly speech perception, speech production, vocal emotions and human communication. As deputy director of the University College London's Institute of Cognitive Neuroscience, Sophie seeks out the neurological basis of communication, whether it's speech or vocalized emotion. In her spare time, she is a stand up comedian with UCL's bright club.
For a full breakdown of the lectures, speakers (and their reading recommendations) emailed to your inbox, please click here.
---
Event Schedule
10:00am – 12:00pm: The Neuroscience of Near Death Experiences - Dr Tamara Russell, PhD
12:00 – 1:00pm: Lunch break
1:00pm – 3:00pm: The Neuroscience of Psychotherapy - Professor Oliver Turnbull, PhD
3:00pm – 3:15pm: Afternoon break
3:15pm – 5:00pm: The Neuroscience of Laughter – Professor Sophie Scott, PhD
5:20pm – 7:00pm: Attendee Social & Networking (Optional)