The Alzheimer's Association International Conference Neuroscience Next
External Event - 9th Nov 2020
Free virtual event
Two day event: November 9-10, 2020.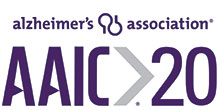 The Alzheimer's Association International Conference® is the largest and most influential international meeting dedicated to advancing dementia science. Each year, AAIC® convenes the world's leading basic science and clinical researchers, next-generation investigators, clinicians and the care research community to share research discoveries that'll lead to methods of prevention and treatment and improvements in the diagnosis of Alzheimer's disease.

AAIC Neuroscience Next is free of charge for all attendees. This unique virtual event will showcase the work of neuroscience students and early career investigators and provide opportunities to make an impact in dementia research.

Featuring presentations on basic science, information on funding and networking opportunities with experts in the field, this event will help advance the careers of those just starting in the field and accelerate the future of neuroscience.