Academic neuroscience has no future
BNA Event - 3rd Oct 2018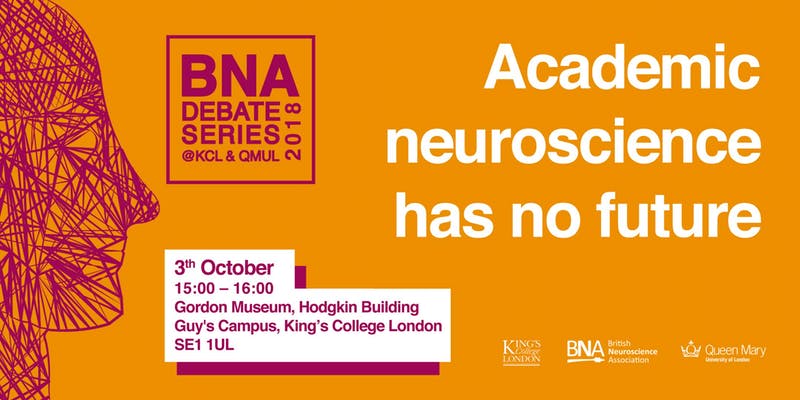 Arguably modern neuroscience is one of the most exciting scientific disciplines, with a unique multidisciplinary footprint. Over recent years, increasing numbers of talented young scientists have chosen to dedicated their career to tackling several fundamentally challenging questions of neuroscience. Their (/our!) daily research however is inevitably reductionist in nature, and leaves little time for the holistic view of the subject.
We thus propose to bring back into focus the big picture questions in neuroscience, with a series of four meetings to debate current hot topics in the field.
Join us for the third debate of the series, chaired by Dr Louise Weiss,Public Engagement Manager @ Science Gallery London
Debating teams of early career researchers from KCL and QMUL will be 3 members strong, and each team will be supported by one senior academic representative. They will champion opposing views on whether there is a future in academia for young neuroscientists.
The debate will be highly interactive, and the public will be asked to vote and decide the winner.
Doors will open at 14.30, the debate will start at 15.00 and last one hour. Complimentary refreshments will be available after the debate.
https://neurodebates.wordpress.com/
IMPORTANT: the Museum is not open to the general public, but welcomes all students/members of the biomedical profession (all institutions, all disciplines). Please register using your academic email address, and bring your university ID card.
DATE AND TIME
Wed 3 October 2018
15:00 – 16:00 BST
LOCATION
Percy Roberts lecture room, Gordon Museum, Hodgkin Building
Guy's Campus
King's College London
London
SE1 1UL