The role of pharmaceutical science in the public eye - Credibility and the Coronaverse
BNA Event - 2nd Nov 2020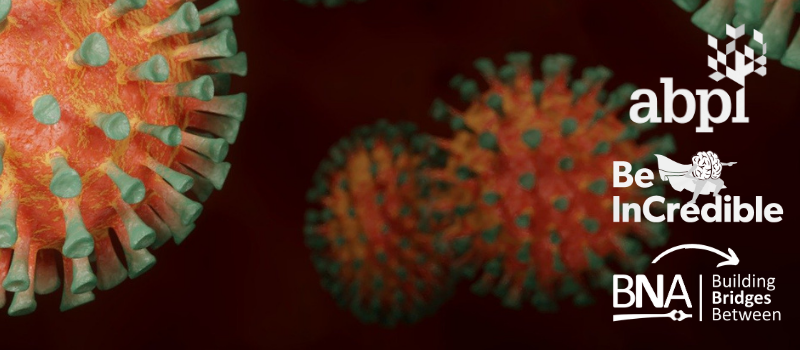 The role of pharmaceutical science in the public eye - Credibility and the Coronaverse
Monday 2nd November, 10.00 - 11.30 AM GMT, online webinar
---
A joint online event between the BNA and the ABPI (Association of the British Pharmaceutical Industry).
A panel discussion led by Dr Kevin Cox (Trustee of the BNA and Chairman of Biorelate), with Dr Jina Swartz (Executive Medical Director and the Therapeutic Area Head at MSD) and Dr Sheuli Porkess (Executive Director, Research, Medical and Innovation at the ABPI).
This event is free to attend, but registration is required.

The BNA's 'Building Bridges Between: Industry and academia' initiative aims to foster collaboration between neuroscientists in industry and academia through events and networking opportunities. It links to the BNA's core theme of 'credibility in neuroscience'.
Panel discussion
COVID has resulted in an unprecedented increase in sharing of scientific information within the scientific community and with the public. This panel looks at the challenges of this and the role of the scientific community in ensuring credibility.
The panel will examine 3 particular challenges:
1. The publication of as many papers as possible was a phenomenon seen before COVID. The COVID experience has amplified concerns about the reproducibility of published studies. What are the factors driving publication, and how much early research is visible? Are there differing opinions regarding the quality of industry vs academic research, and can collaboration improve credibility? What is the place of pre-print publication in health research?
2. A survey conducted by the Open Knowledge Foundation found that, with respect to COVID-19, people "want data to be openly available for checking" and "are more likely to listen to expert advice from scientists and researchers". Despite this, a July survey by YouGov indicated that 10% of the UK population would refuse a COVID vaccine and 19% were undecided. What are the possible factors in this and what can the research community do?
3. Science advocacy contributes to public credibility but is that advocacy undermined by credibility issues within research? And what about the responsibilities of the media in showcasing data – how can we trust what we read?
Join our event where these and other topics will be discussed by a panel representing the research community followed by a live Q&A session.
---
If your organisation would like to support the 'Building Bridges Between: Industry and academia' initiative then please contact Sophie Sykes-Jerrold (sophie@bna.org.uk).
Please consider becoming a member of the BNA to support our work to advance the field of neuroscience: register online here www.bna.org.uk/register.