MACS® Imaging and Microscopy Day
External Event - 28th Oct 2021
Time: 2pm - 8.30pm (BST)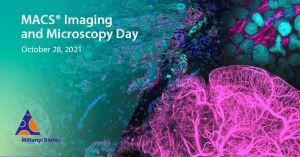 Understand nature's complexity by cutting-edge imaging and microscopy technologies
Unlock the next level in your research when experts from all around the globe come together to share their knowledge. The virtual MACS® Imaging and Microscopy Day will host leading scientists from the fields of immuno-oncology and neuroscience to present recent findings achieved through groundbreaking imaging and microscopy technologies.
Take the opportunity to exchange views with your peers in our networking session and get connected with other attendees and technical experts.
Program highlights
Get unique insights into how large-scale 3D light sheet microscopy, ultrahigh-content imaging, and multiphoton microscopy can open new avenues in immuno-oncology and neuroscience research.
Immuno-oncology
Learn how the visualization and detailed analysis of tumor invasion or CAR T cells within the tumor microenvironment boosts research towards the development of new cancer therapies.
Neuroscience
Discover how cutting-edge imaging technologies allow you to study the nervous system, such as an entire brain, and neuronal connectivity in all their complexity.
Launch of Miltenyi Biotec's brand-new multiphoton microscope
Be the first to have a look at the new TriM Scope™ Matrix – an instrument that enables all multiphoton applications. Get ready for next-generation intravital microscopy to advance your studies of dynamic processes deep in tissue.
Speakers: Dr. Stefan Eulitz, Dr. Daniel Schäfer, Christian Seitz, M.D., Dr. Rita Pfeiffer, Dr. Markus Habich, Prof. Dr. Bettina Weigelin, Dr. David Reismann, Volker Siffrin, M.D., Robin Vigouroux, Ph.D., Adam Kimbrough, Ph.D., Prof. Dr. Albrecht Stroh
Click here to register