Sleep, Body Clocks and Health - Biology to Medicine
External Event - 13th Mar 2017
Professor Russell Foster of Oxford University will be giving this talk, in Exeter, to members of the Devon and Cornwall Branch of the Royal Society of Biology and members of the BNA.
18:30, Monday 13th March
Newman Red Lecture Theatre, Peter Chalk Centre
The Peter Chalk Centre is number 17 on the Streatham Campus Map. Visit the University web pages for directions and parking information.
---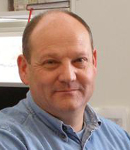 Russell Foster is Professor of Circadian Neuroscience and the Head of Department of Ophthalmology and the Sleep and Circadian Neuroscience Institute in Oxford. He is also a Nicholas Kurti Senior Fellow at Brasenose College.
Russell is a circadian neuroscientist - he studies the sleep cycles of the brain. "Fundamentally, what I'm excited about and trying to understand is how the core mechanisms of sleep and 24-hour circadian rhythms are generated and regulated within the central nervous system, and then use this fundamental knowledge for translational studies – to inform therapeutic approaches that will improve the quality of life for individuals and their family across a broad spectrum of health conditions where sleep is severely disrupted, from eye disease to mental illness."
His TED lecture on Sleep in 2013 has been viewed over 6 million times, and he has authored popular books on circadian rhythms.