The BRAIN Conference
External Event - 4th to 5th Mar 2021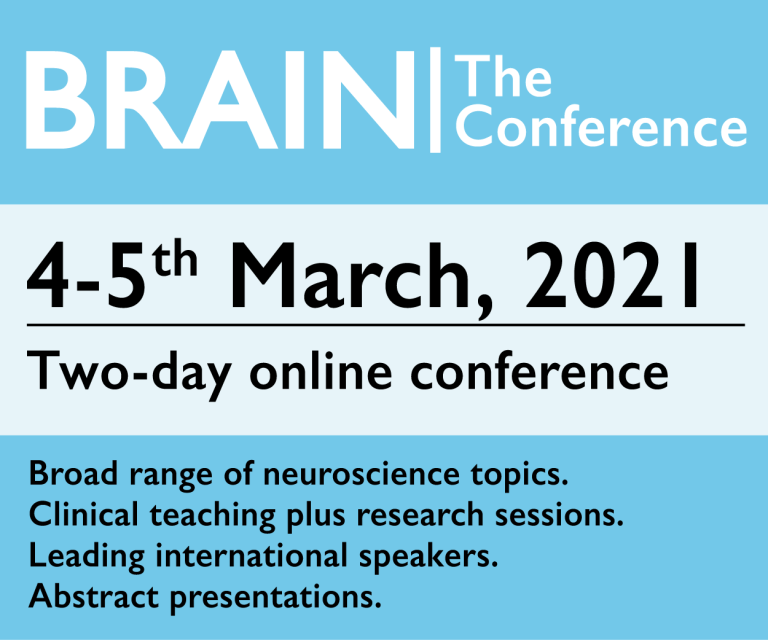 BRAIN has published landmark papers in clinical neurology and translational neuroscience since 1878. The Guarantors of Brain aim to promote teaching, education & research in neurology and related disciplines, and in 2021 as we welcome a new Editor to the journal, we are excited to announce a new venture to further fulfil this mission: The BRAIN Conference!
This two-day conference will feature a wide range of fantastic speakers from around the globe. We have invited a panel of neuroscientists and neurologists, leaders within their fields, who will curate and chair Topic Sessions featuring a mix of teaching talks and research presentations. The conference will cover a wide range of neuroscience disciplines, representative of BRAIN's publishing remit.
The following areas will be covered: Cognitive Neurology (Chair: Masud Husain), Epilepsy (Chair: Dimitri Kullman), Neurodegenerative (Chairs: Anne Rosser & Sarah Tabrizi), Neurogenetics (Chair: Nicholas Wood), Headache (Chair: Peter Goadsby), Traumatic Brain Injury (Chair: Dave Sharp), Nerve (Chair: Mary Reilly), Stroke (Chair: TBC), Neuroinflammation/MS (Chair: Olga Ciccarelli), Movement Disorders (Chair: Anette Schrag), Infectious Disease (Chair: Tom Solomon), Neuropsychiatry (Chair: Paul Fletcher), COVID Neurology (Chair: Mike Zandi) and Muscle (Chair: Mike Hanna). There will also be short 'data blitz' presentations in these sessions - we encourage all early-career researchers to submit an abstract to be considered. Abstract submission now open!
We are keen to make this conference accessible to all - registration is only GBP10 [free if you cannot afford this]. Follow us @Brain1878 and visit our website for registration and program information: www.thebrainconference.co.uk