Meeting Registration
BNA Christmas Symposium 2019 - Pain, Pleasure and the Agony of Christmas
BNA Christmas Symposium 2019 - Pain, Pleasure and the Agony of Christmas


Bush House, King's College London - Monday 16th December 2019
In collaboration with King's College London
Why pain?
Pain has long been recognized as something of an enigma by scientists and clinicians, being both a measurable physiological process, as well as deeply personal and subjective. Moreover pain can be associated with pleasure, is influenced by cultural expectations, can be manipulated, and can be a weapon of war. It is also costly at both individual and societal levels; it is estimated that 43% of the UK population experience chronic pain2.
In recent decades, scientists have delved further than ever into both the physiology and the experience of pain, and this symposium – with a programme devised by Professor Irene Tracey, the 'Queen of Pain' – sets out to explore it all.
The day will start by giving delegates a 'grand tour' of pain, from its place in our history and culture, through the molecular neuroscience of nociception, the neural circuitry involved, the clinical challenge of managing pain, and the latest treatments available.
We will go to explore strange pains: phantom limb pain, congenital lack of pain, the placebo effect and the curious relationship of pain with pleasure.
Finally, Professor Irene Tracey will bring together all the components of the symposium in a plenary session and panel discussion.
Our speakers are drawn from different institutions across the UK and Europe.
And of course we will have our credibility zone, where we invite you to come and talk to us about credibility/open/reproducible science, 'pick our brains' about the credibility in neuroscience programme, and share your current 'pleasure or pains' in neuroscience! Sponsored by Zantiks.
Prize winners
We're delighted to announce this year's prize winners:
Outstanding contribution to neuroscience award 2019: Professor Steven McMahon, KCL
Outstanding contribution to neuroscience award 2019: Dr Dean Burnett
Postgraduate award 2019: James Phillips, University of Cambridge
Undergraduate award 2019: Pia Siegele, University of Edinburgh
All prize winners will be collecting their awards at the presentation services during the symposium, see programme for timings.
We are also excited and delighted that Dean Burnett will be giving a live set during the wine reception. Not to be missed!
Programme
Time
Title
Speaker
09:30
Coffee/registration
10:20
Welcome
Anne Cooke, BNA CE
10:30

The Story of Pain

Joanna Bourke, Birkbeck
10:55

HCN2: a key ion channel driving pain, migraine and tinnitus?

Peter McNaughton, Kings College London
11:20
Descending pain modulatory systems
Bridget Lumb, University of Bristol
11:45

Treating pain: what now and what next?

Lesley Colvin, University of Dundee / University of Edinburgh
12:10
LUNCH
13:10
Student Prizes: Undergraduate and Postgraduate
Anne Cooke, BNA CE
Annette Dolphin, BNA President
13:20
Phantom limb pain
Tamar Makin, University College London
13:45
Congenital lack of pain
David Bennett, University of Oxford
14:10

Pain and the placebo effec

Ulrike Bingel, University Hospital Essen
14:35
From discoveries to treatments
Keith Phillips, Eli Lilly
15:00
TEA
15:30
BNA Awards: Outstanding Contribution to Neuroscience, and Public Engagement of Neuroscience
Anne Cooke, BNA CE
Annette Dolphin, BNA President
15:40

Pleasure and pain; hedonism and anhedonia

Siri Leknes, University of Oslo
16:05

Cannabis: the pleasure and the pain

Val Curran, University College London
16:30

Plenary and panel discussion with all speakers, led by Irene Tracey

Irene Tracey, University of Oxford

17:15
Closing words
Anne Cooke, BNA CE
17:30

Wine reception for all delegates including a placebo wine effect live demonstration, plus a live set by Dr Dean Burnett, winner of the 'Public engagement of neuroscience 2019' award!
Venue
This year we have relocated to the iconic and recently renovated Bush House, former home of the BBC, increasing capacity for the event to 300 delegates.
Venue address:
Bush House, 30 Aldwych, London, WC2B 4BG. A map can be found here.
Sponsors
Headline sponsors
| | |
| --- | --- |
| | Tocris Bioscience has been supporting the neuroscience research community for over 35 years as a leading supplier of trusted and reliable reagents for life science research. Our unique catalogue contains over 1800 neuroscience tools, covering in excess of 270 targets, including GPCR ligands, ion channel modulators, neurotransmitters, caged compounds, photoswitchable ligands, fluorescent probes and tools for chemogenetics. |
Credibility Zone sponsors
| | |
| --- | --- |
| | Zantiks produces affordable units to enable animal behaviour to be measured simply. The company believes that, by facilitating more sophisticated behavioural experiments on less sentient animals and creating an environment for standardised experiments, Zantiks units will help reduce the number of experiments needed to prove outcomes. |
A proven hit at the BNA2019 Festival of Neuroscience, the Credibility Zone is a drop-in station at the event, providing the opportunity for delegates to talk to experts about all things credibility.
We invite your organisation to be part of this special event. Please download the documents below for full information, and if you would like to discuss sponsorship with the BNA then please email us (office@bna.org.uk).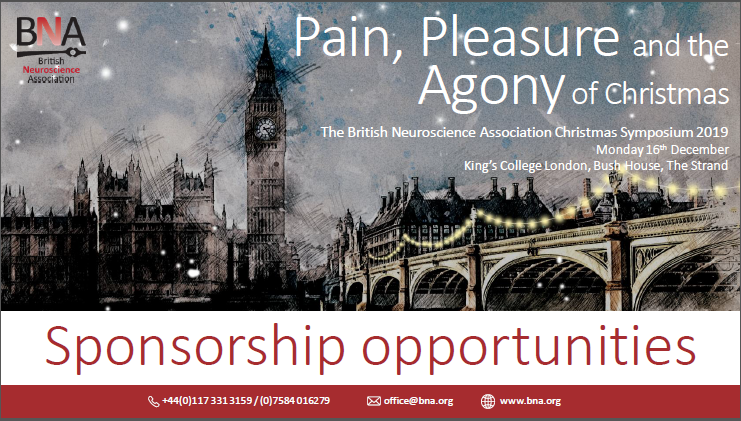 Download sponsorship prospectus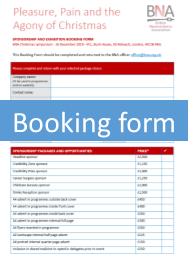 Download sponsorship booking form
Registration
Meeting Fees - same as 2018's fees!
Member
Non-member
Undergraduate/ 'A' level student
£13.50*
£13.50
Postgraduate
£16.00
£32.00
Early Career Scientist/ Clinician
£26.50
£53.00
Associate member/ public
£26.50
£80.00
Full/ Full industry
£47.50
£80.00
Retired
£13.50
£26.50
Honorary
£13.50
*BNA undergraduate members - Please note that the BNA undergrad registration fee (£13.50) is refundable based on successful attendance at the event. We have introduced this policy to try and avoid no-shows. The no-show rate in previous has been 20% meaning that there were empty seats which could have easily been filled by people who were on a waiting list and had wanted to come.
Catering and refreshments
Meeting fees include two refreshment breaks, lunch and a wine reception.
PLEASE BE AWARE that meat will not be provided at lunchtime unless specially requested by indicating in the 'requirements' section during registration. The default option will be vegetarian. This is in an effort to reduce the carbon footprint associated with food waste at conferences and events.
All other special dietary requests (vegan, gluten-free, halal etc) can also be catered for by requesting in the 'requirements' section during registration.
Please register here