Meeting Registration
Neuroinformatics tutorial: What makes good code?
Neuroinformatics tutorial: What makes good code?
Poor code is often the weakest link in neuroscience. Do you write scripts as part of your work, and want to improve your code?
Unlike a "programming" course, this interactive seminar will focus on maximising productivity in a scientific setting. It is ideally suited for people who already have 2-3 years' experience of writing code, and are familiar with their language and its rules. It is intended for people working on coding experiments, data analysis, modelling or simulation. The teaching will be language-agnostic but examples will be drawn from Matlab and Python. In the session we will discuss the factors that contribute to well-written programs, focusing on style, clarity, technique and robustness. As scientific programmers, you will discover how to move from writing a series of one-use scripts, to writing well-planned, transparent, re-usable code. After a general introduction to the BNA Neuroinformatics SIG and Neuroinformatics UK (www.neuroinformatics.org.uk), topics to be covered will include Environment, Code style, Naming conventions, Encapsulation, Namespaces, Abstraction, Debugging, Vectorisation, Lambdas and Error handling.
Tutor: Prof. Sanjay Manohar (https://www.ndcn.ox.ac.uk/team/sanjay-manohar ) is an MRC Clinician Scientist at the Nuffield Department of Clinical Neurosciences at the University of Oxford. He has taught Good Coding Practice courses at UCL and Oxford, and is a Fellow of the Software Sustainability Institute, an RCUK-funded body aiming to improve software in academia.
Event date and time
Thursday 5th April, 1pm – 4pm (including coffee break)
Registration fees
Registration can be found at the bottom of this page.
BNA student members travelling from outside Greater London, will receive a partial reimbursement of their travel costs.

Note that the fee difference between BNA members and non-members is higher than the annual membership fee. Applicants should apply to join the BNA (see Membership) before starting the the registration process to take advantage of lower member fees for this event.
Venue
Located only minutes from Liverpool Street station and based in the heart of the City, Newcastle University London is well connected with fantastic transport links. Below is a map of the campus with specific directions.

From Liverpool Street station you should head towards the East exit onto Bishopsgate (the exit is at point A on the map below.) The exit you need to take is located by Platform 18. From there it is about 2 minutes' walk to Newcastle University London.
Cross Bishopsgate, turn left and walk for a short time. Turn right on to Middlesex Street when you see the Woodins Shades – the building has black awnings. You are now on Middlesex Street.
The Newcastle University London building is distinguishable by its glass exterior and branding on the first floor windows.
The postcode for Newcastle University London is E1 7EZ if you want to have a look on Google Maps or Streetmap.co.uk
If you are having difficulties finding the campus, please ring reception on +44 (0)203 752 2200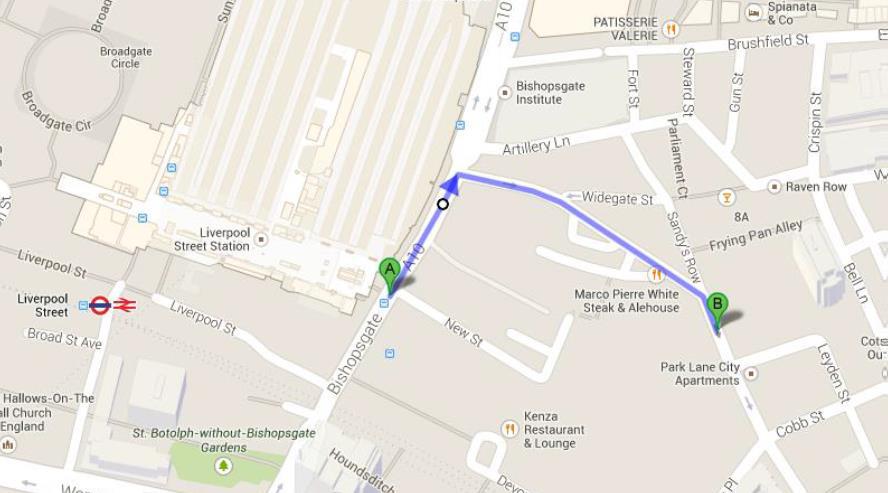 Nearby hotels and restaurants
We are located very close to Spitalfields Market which has a great selection of restaurants and bars. You can find a list of their restaurants at www.spitalfields.co.uk/food-and-drink
There are a number of hotels with competitive rates close to campus, we would recommend any of the following:
Become a BNA member and save money when booking this event!
Apply at Membership now before you register