Drug and Behavioural Addictions: COVID-19 and Beyond
External Event - 7th Jul 2021
Time - 8:55 am - 13:30 BST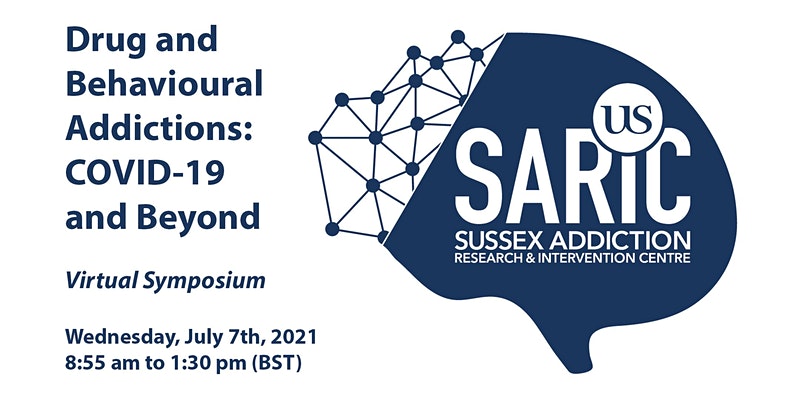 There is an immediate need to pool an understanding of how the pandemic has impacted alcohol intake, drug use, and behavioural addictions. Collating this knowledge can help doctors and mental health professionals improve patient care by being aware of what's happening during the pandemic and being prepared for potential mental health changes in their clients.
The Sussex Addiction Research and Intervention Centre (SARIC), which is hosting this knowledge exchange event, hopes to bring people together to (a) discuss how COVID-19 has impacted addiction-related mental health issues and (b) stimulate action to help prevent and treat potential addictions.
Session 1: Drug & Alcohol Use During COVID-19 (8:55– 11:30, with discussion & breaks)
• Abhijit Nadkarni (London School of Hygiene & Tropical Medicine, UK): 'I drink, therefore I am': Stories from India.
• Fiona Walker (University of Sussex, UK): The effect of health messages on intentions to consume alcohol during the Covid-19 lockdown.
• Sarah Osborn and Nicholas Sinclair-House (University of Sussex, UK): COVID-19, alcohol and drugs: Trends and changes through lockdown and beyond.
• Aldo Badiani (Sapienza University, Italy; University of Sussex, UK): COVID-19 prevalence in people with opioid use disorder.
• Amanda Roxburgh (Burnet Institute, Australia): The Impact of COVID-19 on Supervised Injecting Facilities in Australia.
~~~
Session 2: Compulsivity & Behavioural Addictions During COVID-19 (11:30 – 13:30, with discussion & breaks)
• Lucy Albertella and Erynn Christensen (Monash University, Australia): Behavioural addictions during COVID-19: Predictors of risk and resilience.
• Ornella Corazza (University of Hertfordshire, UK): The impact of Physical Distancing on Body Image, Exercise Addiction and the use of Performance and Image Enhancing Drugs.
• Zsolt Demetrovics (Centre of Excellence in Responsible Gaming, University of Gibraltar, Gibraltar; ELTE Eötvös Loránd University, Hungary): Changes in addictive and problematic behaviors in Hungary during the COVID-19-related lockdowns.
• Anders C Håkansson (Lund University, Sweden): COVID-19, changes in gambling activity, and self-exclusion in Sweden.
The full agenda, with abstracts, will be made available on the SARIC website.