Meeting Registration
BNA Christmas Symposium 2018
BNA Christmas Symposium 2018
Neuromyths, and the science behind them
17th December 2018
KCL, the Strand Campus, London WC2R 2LS
This topic will give us the opportunity to discuss common misconceptions about brain mechanisms, (e.g. that we only use 10% of the brain); the science of why and how neuromyths arise (e.g. cognitive biases) and ways the neuroscience community can help address or prevent mis-understandings in neuroscience.
Neuromyths emerge in many forms, and research suggests that people are often seduced by neuroscientific explanations, even if these are not accurate or even relevant.
Scientists and neuroscientists are by no means immune to neuromyths either; studies have shown that trained neuroscientists as well as the general public still find them hard to dismiss.
Such myths can be a drain on time and money, and it is important to explore and expose them, determine their impact, and to consider how we can address them.
Programme
Confirmed speakers include David Nutt (Imperial College London) discussing antidepressants, Chris McManus (UCL) on left-brain/right-brain and brain lateralisation, Twitter's @Neuro_Skeptic, Emma Yhnell (Cardiff) on Brain Training and Helene Joffe (UCL) discussing neuroscientists' role in dispelling neuromyths and preventing them arising to start with. Check back for further updates in coming weeks.
Venue
The meeting will be held at the Edmond J Safra Lecture Theatre, KCL Strand Campus, London WC2R 2LS. See map
Getting here by underground: Temple (District and Circle lines): 2 minute walk. Charing Cross (Bakerloo and Northern lines): 10 minute walk. Embankment (District, Circle and Bakerloo lines): 10 minute walk. Waterloo (Jubilee, Northern, Bakerloo, Waterloo & City lines): 12 minute walk. Holborn (Central and Picadilly lines): 12 minute walk. Chancery Lane (Central line): use exit 4 - 15 minute walk.
By train: Charing Cross: 9 minute walk. Waterloo: 12 minute walk. Waterloo East: 10 minute walk. Blackfriars: 12 minute walk.
By bus: Buses stopping outside the university: 1, 4, 26, 59, 68, 76, X68, 168, 171, 172, 176 (24 hour), 188, 243 (24 hour), 341 (24 hour), 521, RV1.
Parking: There is no public parking, but a pay and display parking system operates in nearby streets including Surrey Street.
Sponsorship
We invite your organisation to be part of this special event. Please download the documents below for full information, and if you would like to discuss sponsorship with the BNA then please email us (office@bna.org.uk).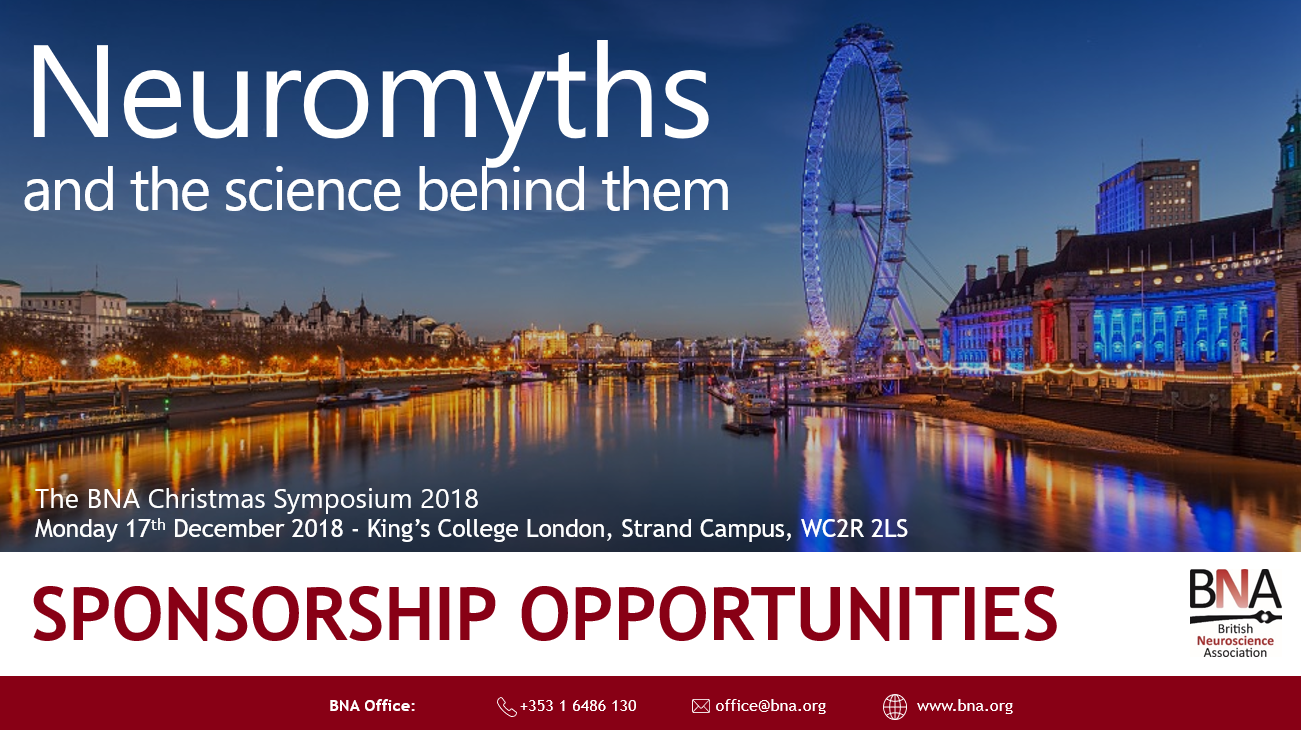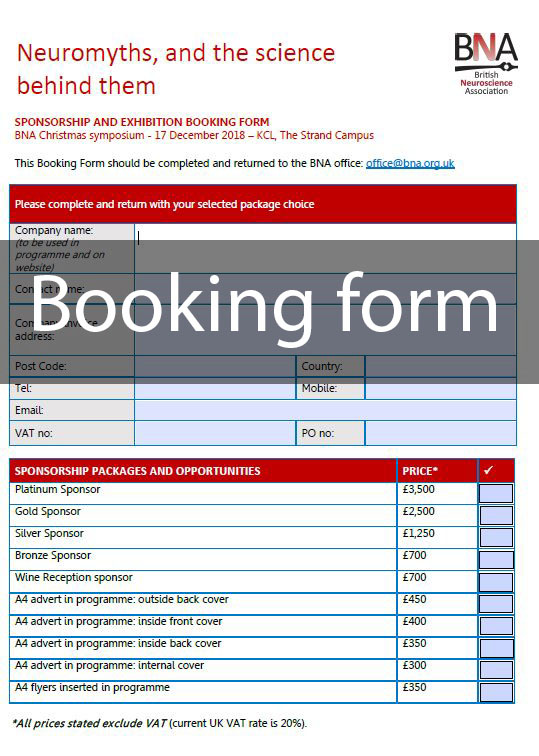 Confirmed supporters
Registration
Meeting Fees
Member

Non-member

Undergraduate/ 'A' level student
£13.50*
£13.50
Postgraduate
£16.00
£32.00
Early Career Scientist/ Clinician
£26.50
£53.00
Associate member/ public
£26.50
£80.00
Full/ Full industry
£47.50
£80.00
Retired
£13.50
£26.50
Honorary
£13.50
*BNA undergraduate members - Please note that the BNA undergrad registration fee (£13.50) is refundable based on successful attendance at the event. We have introduced this policy to try and avoid no-shows. The no-show rate in previous has been 20% meaning that there were empty seats which could have easily been filled by people who were on a waiting list and had wanted to come.
Please register here.