An interview with science rapper, Baba Brinkman
28th Feb 2019
Science that entertains… and might just change the way you think.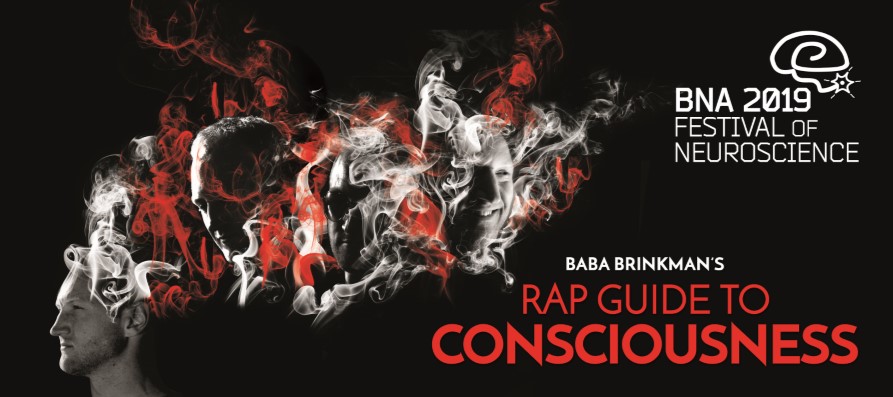 Here at the BNA, we're getting rather excited about seeing Baba Brinkman perform his award-winning 'Rap Guide to Consciousness' live on stage, at a free public event for Dublin's BNA2019 Festival of Neuroscience. Watch a trailer here.
Baba Brinkman – Canadian rap artist, science communicator, and award-winning playwright – is best known for his 'Rap Guide' series of science-themed plays and albums. Touring the globe, he enjoys successful runs at the Edinburgh Fringe Festival, off-Broadway and the World Science Festival.
If, like us, you're intrigued to know more about the man and the motivation behind his performance, you're in luck. We caught up with Baba on his busy current tour, to give you a small flavour of what to expect in April.
---
Q. Rapping and science – they're not words you tend to put together. What inspired you to start?
Baba: For me, rap itself is the perfect example of evolutionary principles, articulating some of the most fundamental, universal human instincts and experiences, cutting straight to the core of a subject. Human beings in certain contexts behave a certain way and rap can tell you all about how that works and feels.
My own journey began back in 2009 with the 'Rap Guide to Evolution', a 'peer-reviewed rap' manifesto on the legacy of Charles Darwin and the surprising power of his theory to make sense of human origins and behaviour. The show, created to complement a book written by UK microbiologist Dr. Mark Pallen, quickly became a sell-out. What started as a passion project became a critic's pick, and the rap series grew from there – informing and challenging audiences to think critically about science and society.
Q. So, what made you decide to embark on neuroscience next?
Baba: At my core, I'm a communicator, who's passionate about breaking down the barriers around academic science to bring the latest research insights and theories to a wider audience.
I'd performed my Rap Guides to Evolution, Climate Chaos, Human Nature, Medicine, and Religion, and I decided it was time to take things to the next level, exploring the nature of consciousness itself. Using philosophical and cutting-edge neuroscience experiments to question whether our ideas of and emotional connections to creativity and art will survive the seemingly inevitable Singularity.
It also helps that my wife (Dr. Heather Berlin) is a cognitive neuroscientist, and she was able to introduce me to some of the world's top experts on consciousness and guide me through the concepts and the literature. For all of my shows, I seek "peer review" feedback from scientists to get the details right, but for this one I could get some of that input via pillow talk.
Q. Science is a complex field, how do you make sure you're getting it right?
Baba: Usually I start by reading a series of popular science books and articles and paying attention to which scholars are cited by which other scholars. I appreciate the self-regulatory structure of science, the cycle of hypothesis and disconfirmation and critical peer review, which seems to operate under a principle similar to hip-hop culture and the ethic of "real recognize real".
Then I reach out to a few of the top scholars in the field to request their input including suggested sources, feedback on the show structure and song ideas, and finally I send them the lyrics of my songs to make sure I'm not misrepresenting findings.
By the end, I can perform the songs on stage with the confidence, even the swagger, that follows from representing facts and evidence, not just opinion.
Q. How do you see your performance working alongside more formal class education?
Baba: Rap can challenge traditional belief systems, in ways education often can't. I want to reach people with art rather than argument. Helping audiences understand the underlying fundamental facts beneath the various theories, and examining them with an open mind and without prejudice.
Rap enables people to celebrate and share the excitement of science and critical thinking – in my mind, that's the best way to learn.
Q. Are your performances for all ages, all people?
Baba: Absolutely. We advise 11+ for this particular performance (younger children are welcome at the discretion of parents, but be warned there are some drug references in the show). Beyond that, there's no age limit. You're never too old, or too 'clever' to challenge the way you think.
I recently performed at Google's "SciFoo Camp" in California, where I taught a rap workshop schooling top scientists and programmers on the craft of freestyle. Until you've heard a tenured computer science professor kick improvised rhymes about their favorite algorithms, you haven't really pushed the boundaries of hip-hop.
Q. Finally, can you give us a little taster of what to expect at the show?
Baba: Expect a journey of self-discovery, a scientific exploration of the nature of mind and experience, and a deep dive in the subjectivity of newborn babies, octopuses, and thinking machines.
Mindfulness practitioners teach us to notice the contents our consciousness in each given moment. Neuroscientists are hunting for the physical brain circuits that make it possible. And rappers, stand-up comics, and other kinds of entertainers take you on guided tours of consciousness, tickling your receptors for humour, narrative, and meaning. My performance will deliver all of the above and more.
---
Baba will be appearing at the Dublin Convention Centre on Monday, 15th April, 18.30-19.30.
A highlight of the Festival's public programme, this exciting and original event is FREE to attend, however booking is essential – visit here to register a place. Everyone is welcome, with a recommended age of 11+.
This free public event is hosted by the British Neuroscience Association (BNA), in partnership with Neuroscience Ireland (NSI), and the British Society for Neuroendocrinology (BSN). Alongside the Festival's comprehensive scientific programme, an exciting free public schedule of events and activities will take place around Dublin, warmly welcoming the public to engage with all things brain! Check out the full BNA2019 public programme here.