BNA member book review - 'Book of the Brain and How it Works'
31st Mar 2021
BNA member, Jacqueline Pumphrey, Nuffield Department of Clinical Neurosciences, University of Oxford, writes a review below about the 'Book of the Brain and How it Works', the new picture book by Betina Ip aimed at neuroscience for young children.
---
'We're going to step inside your head,' says the owl brain scientist at the beginning of the new Usborne Book of the Brain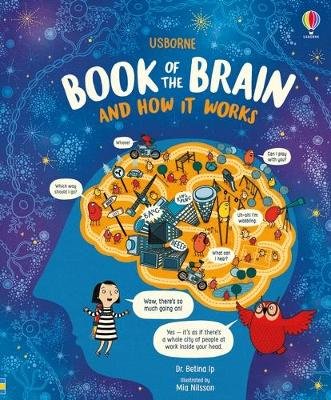 and How it Works. The owl promises 'It'll be an adventure' – and it certainly is!
This particular adventure is the brainchild of Betina Ip, a Royal Society Dorothy Hodgkin Research Fellow at the Wellcome Centre for Integrative Neuroimaging, University of Oxford. The insatiable curiosity of her now seven-year-old daughter Bianca ('Do ants have brains?' 'Do stones have brains?') prompted Betina, who originally trained as an artist, to develop an idea for a comprehensive book about the brain for children aged five and over.
The story starts with a little girl who cycles into the forest on her favourite bike and meets her friend, the owl. They go on an adventure together through the brain forest. Betina has made good use of the power of story to draw readers in, allowing them to learn about the science as they read on to discover what the characters do next.
The book doesn't shy away from specialist words such as glia, synapses and visual cortex. These are introduced in a visually stimulating way, with motorcycle couriers taking messages between neurons, who are pictured delivering and receiving the mail.
Betina's research is about how we learn to see in depth, so naturally there is a double-page spread all about seeing, which explains how different teams of neurons play different roles in interpreting signals. Perhaps one of the most engaging sections is on the 'memory store', which is pictured as a series of boxes on warehouse shelving. Different sections (short-term, long-term and unconscious) are being curated by busy neurons running up and down ladders.
Then there is the hall of emotions, an overview of the sleep cycle machine, and a section on the neurons 'simply keeping your body alive', operating the fight or flight response. Decision-making is addressed too, in two compelling pages about the steps involved in choosing an ice-cream.
The genius of this book lies in its comprehensive treatment of its topic. No stone is left unturned; there is even a section on how to look after your brain, which shows groups of cheerful neurons enjoying exercise, food, socialising and sleep. In an academic world in which we are used to advanced specialisation, it's refreshing to take a step back and look at the big picture – even for those of us who are not children!
'Can I be a neuroscientist, too?' our adventurous protagonist asks the knowledgeable owl towards the end. 'By asking questions about your brain, you already are!' comes the owls encouraging reply. This bold and all-encompassing book will enthrall and inform its readers, whether they read it alone, with family members, or in an educational setting.
---
The BNA is grateful to Jacqueline for writing this book review and invites any BNA members to write to us at office@bna.org.uk with a neuroscience-related book they would like to review.