Poster Download: #LabHacks: How to reduce the noise around your electrophysiology rig
18th Jul 2023

Poster Download: #LabHacks: How to reduce the noise around your electrophysiology rig
Electrical noise can be a major challenge for electrophysiologists, obscuring subtle changes in voltage or current during cell recordings. Eliminating noise is crucial when aiming for precise measurements, especially for single-channel recordings that unveil individual ion channel characteristics.
But fear not! Our comprehensive poster provides practical steps to significantly reduce noise on your patch clamp electrophysiology rig. By implementing these techniques, you can lower background noise levels by up to 90%.
Download this free poster for your lab today and optimise your experiments!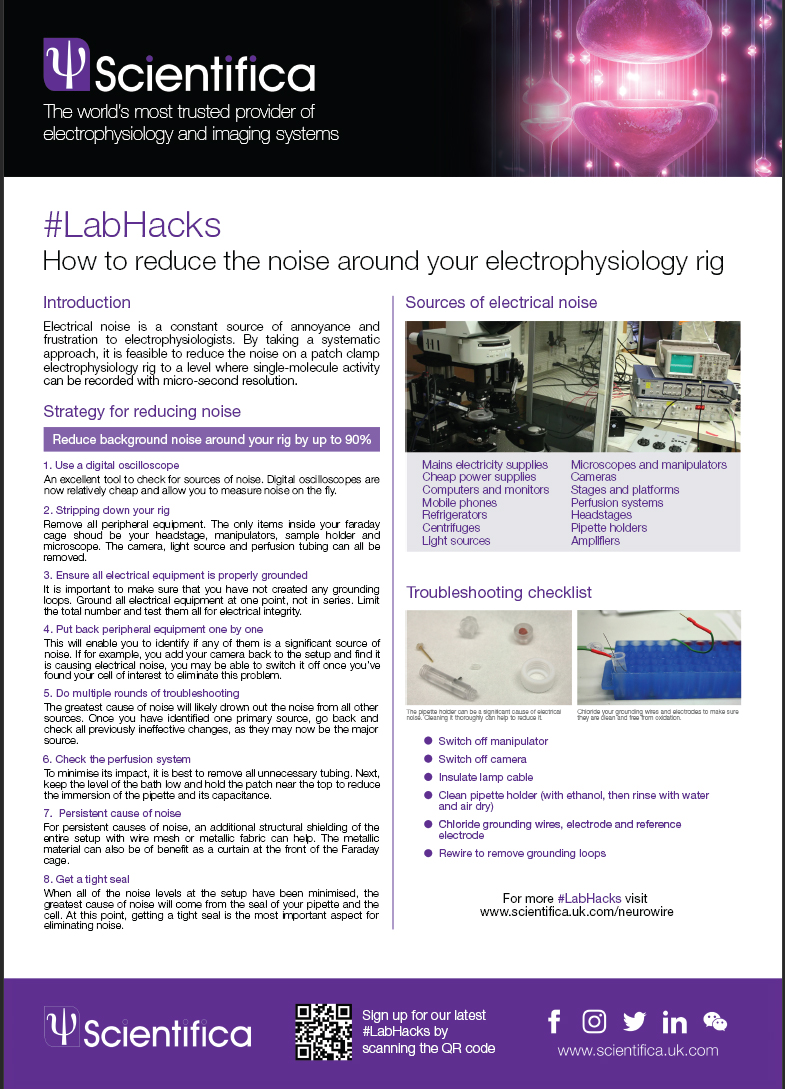 Other articles from Scientifica
About Scientifica
As a leading provider of electrophysiology and imaging systems, Scientifica is committed to empowering researchers worldwide. Our global team of experts is dedicated to helping you push boundaries and achieve your research goals. With our high-quality product design, technical guidance, and first-class support, we provide the tools and knowledge you need for success.
Explore the Scientifica range of innovative solutions tailored to meet your specific requirements. From fully integrated set-ups to individual components, we offer a comprehensive range of solutions for patch clamp and in vivo electrophysiology, multiphoton imaging, and optogenetics. Learn more: https://www.scientifica.uk.com/products
---
This blogpost has been supplied by one of our sponsors, Scientifica, whose support is gratefully acknowledged.