Nominations for President-Elect now open
1st Sep 2022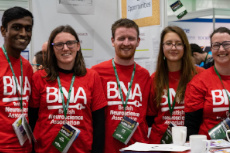 In April 2023, the BNA will appoint a new President-Elect for the organisation. They will work with Tara Spires-Jones and Rik Henson, who will become President and Past-President respectively.
Who would you like to become the next BNA President?
Being President of the BNA is a prestigious role, previously occupied by leading UK neuroscientists including John O'Keefe, Nancy Rothwell and David Nutt.
Term of office
The term of office for President-Elect is two years. This is followed by two years as President and a further two years as Past-President, meaning there is a commitment of six years to the BNA.
Role description
The President-Elect, along with the President and Past-President, acts as a figurehead of the BNA. They should therefore be a high-ranking individual within the UK neuroscience community with strong links to national, European and international neuroscience, as well as policy makers, biomedical charities and funding councils. The President represents the Association externally, and should make use of their position and contacts to further the overarching strategic direction, aims and activities of the BNA.
BNA Presidents are expected to be heavily involved in the biennial Festival of Neuroscience which falls within their term of office, and planning for the one immediately following.
See pdf's for the full role descriptions:
How to nominate
Any member of the BNA can nominate an individual to become President-Elect; we encourage you to read the below and consider submitting a nomination.
Please note that the President-Elect need not be a BNA member to be eligible for appointment.
For details of the selection process, please see the BNA's Articles of Association.
Deadline for nominations = 31st October 2022.
Please complete the form below to submit a nomination, or click to open form in new window.