Professor Barry Everitt from the University of Cambridge selected as President-Elect of the Society for Neuroscience
Professor Barry Everitt from the University of Cambridge selected as President-Elect of the Society for Neuroscience
18th Jun 2018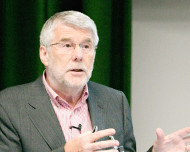 The BNA would like to congratulate Professor Barry Everitt on his appointment as President-Elect of the Society for Neuroscience (SfN). Elected by SfN members, he will begin his term in November at Neuroscience 2018 in San Diego, USA.
From 2016-18, Professor Everitt has been serving as President of the Federation of European Neuroscience Societies (FENS). He is the director of research and a professor of Behavioural Neuroscience in Cambridge Neursocience, at the University of Cambridge. His research covers the neural basis of learning, memory, and motivation applied to understand the neural and psychological mechanisms underlying drug addiction.
Professor Everitt, the first SfN President who is actively based at an institution outside of North America, said on his election:
"I am delighted to have been elected to serve as the President of the Society for Neuroscience - especially in its 50th anniversary year, 2019-2020. I am especially conscious that this will provide an opportunity to work with the SfN Council and staff to consolidate and enhance its collaboration with international partners, especially in areas of education and advocacy. In supporting and promoting neuroscience research, SfN is dedicated to increasing our understanding of brain function, not least since through that understanding much need new treatments for neurological and psychiatric disorders will emerge."
BNA Chief Executive, Dr Anne Cooke, said: "The BNA is excited at the news that UK neuroscientist Barry Everitt has been elected as SfN President. Professor Everitt is highly respected both for his own research and for the huge contribution he has made to the research community through positions at, for example, the British Association for Psychopharmacology, the European Brain and Behaviour Society and latterly FENS. We greatly look forward to working with Professor Everitt and SfN during his time in office."
---
We are delighted to announce that Professor Everitt will be giving one of the plenary lectures at BNA2019: Festival of Neuroscience. Look out for further announcements about the other eight plenary lecturers soon!