BNA past-president wins SOBP Gold Medal Award
31st Jan 2017
BNA Past-President Professor Trevor Robbins has been awarded the presitigious 2017 Gold Medal Award by US-based organsation The Society of Biological Psychiatry.
This award is given for lifetime achievement in advancing our understanding and treatment of psychiatric illness. Trevor Robbins was nominated for his fundamental contributions to the understanding of cortico-stiatal function and its role in many psychiatric disorders and addictions, and also for his work bridging mechanisms of pathology to new treatments.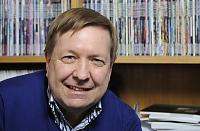 This award will be presented at the 72nd Annual Scientific Convention and Meeting in San Diego on 18th-20th May 2017.
Congratulations Trevor Robbins on your achievement!
Find out more about the SOBP on their website