Demystifying commercial sector career paths: ABPI welcome the BNA Scholars
3rd Oct 2023
On Tuesday 26th September 2023, the Association of the British Pharmaceutical Industry (ABPI) – one of the BNA Scholars Programme's Supporter Organisations – hosted the BNA Scholars at their London Bridge offices for one of the Programme's most expansive career development days yet.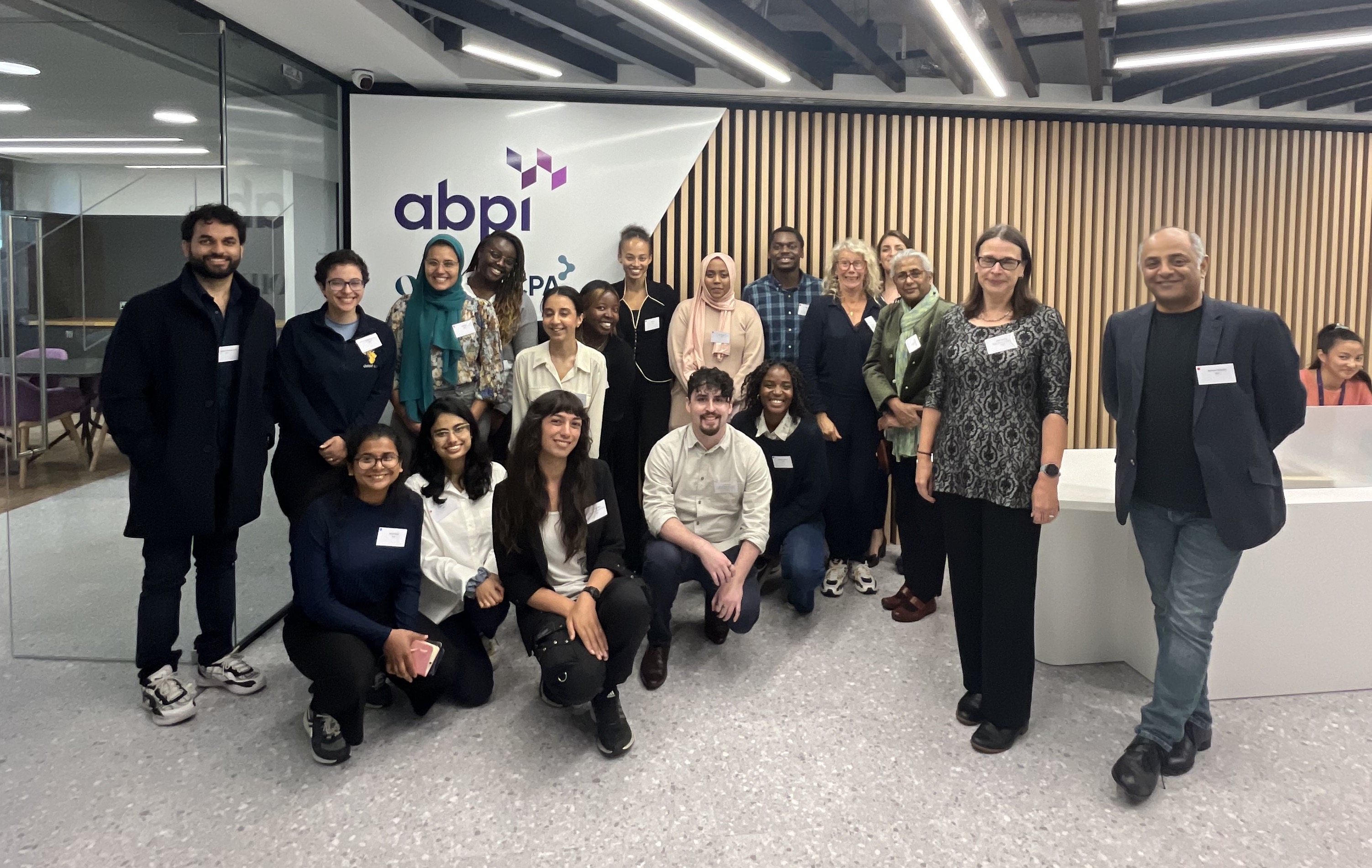 Career development days form a key part of the BNA Scholars Programme, providing involved and interactive opportunities to meet directly with specialist academic and commercial sector leaders and discuss cutting-edge research, discover how these organisations operate, and make long-lasting connections that can give them the advantage they need to fulful their career potential in neuroscience.
The Association of the British Pharmaceutical Industry (ABPI) joined as a Supporter of the BNA Scholars Programme in 2023, and is a trade association representing organisations in the UK pharmaceutical sector. Founded in 1891, the organisation also encompasses the Prescription Medicines Code of Practice Authority (PMCPA) and the Office for Health Economics (OHE), which uniquely positioned it to expose BNA Scholars to a broad range of possible career paths within the sector, demystifying an often-opaque world and giving Scholars the opportunity to directly, freely, and frankly speak with professionals already thriving within it.
With an ambitious agenda set for the day, BNA Scholars travelled from as far as Edinburgh to get to ABPI's offices early in the morning, and enjoyed a fresh breakfast and informal conversations with those on ABPI's team who had led the day's development: Sam Ogden (Chief of Staff, HR, Operations and Membership Services), Zeph Landers (Head of Events), and Jill Pearcy (Director of Reputation). Once sufficiently caffeinated, we moved into an expansive board room overlooking the Thames, where Sam and the BNA's Chief Executive – Dr Laura Ajram – introduced the day. The room buzzed with energy as BNA Scholars and staff sat shoulder to shoulder with representatives from ABPI, PMCPA, OHE, and ABPI's member organisations from across the pharmaceutical sector – all of whom were poised to deliver presentations and workshops throughout the rest of the day. In advance of the event, ABPI had launched a bespoke website for the Scholars containing detailed biographies of each speaker, in an effective effort to remove barriers to Scholars being able to effectively network and engage with them. Conversation was already flowing!
The first presentation was given by John James (Chief Executive of the Sickle Cell Society), who expertly laid out the critical role that voluntary sector organisations play in ensuring that neglected conditions are put on the agendas of governments and commercial sector pharmaceutical organisations (and stay there!), for the betterment of human health.

Then followed overviews of the work of ABPI, PMCPA and OHE from their representatives, describing the role of each organisation and how they interlink. Immediately after this was an in-depth presentation from Karen Bunting, Senior Director of Discovery at Ipsen, one of ABPI's member organisations. Karen spoke eloquently and frankly about the twists and turns of her career so far, navigating through academia and industry alongside a busy family life, showing the not-uncomplicated reality of what it is to have a career path. Scholars praised Karen for her honesty, which precisely cut through the common perception that a career path must be mapped out decades in advance and followed to the letter in order to achieve success – moreover it revealed this to be a fairly improbable fantasy! Karen's talk laid the groundwork for what would follow: a series of 'snap talk' style presentations from eight further professionals in roles covering the full expanse of the sector.
After a busy morning, next came a buffet-style lunch. ABPI had thoughtfully arranged a number of topic-themed tables around a spacious room, among which Scholars were free to move in order to network with, ask questions of, and discover more about the career paths of an even larger cohort of industry professionals over a casual meal.
But the day wasn't over yet! The afternoon schedule boasted two excellent skills-building workshops: Communicating Science, hosted by Freya Rob from Science Media Centre, and Research and development of new medicines and vaccines, presented by Bhau Patil from IQVIA. Not only did these workshops further demystify possible careers in their respective areas, but they allowed the Scholars to develop transferrable skills which would concretely improve their access to such careers.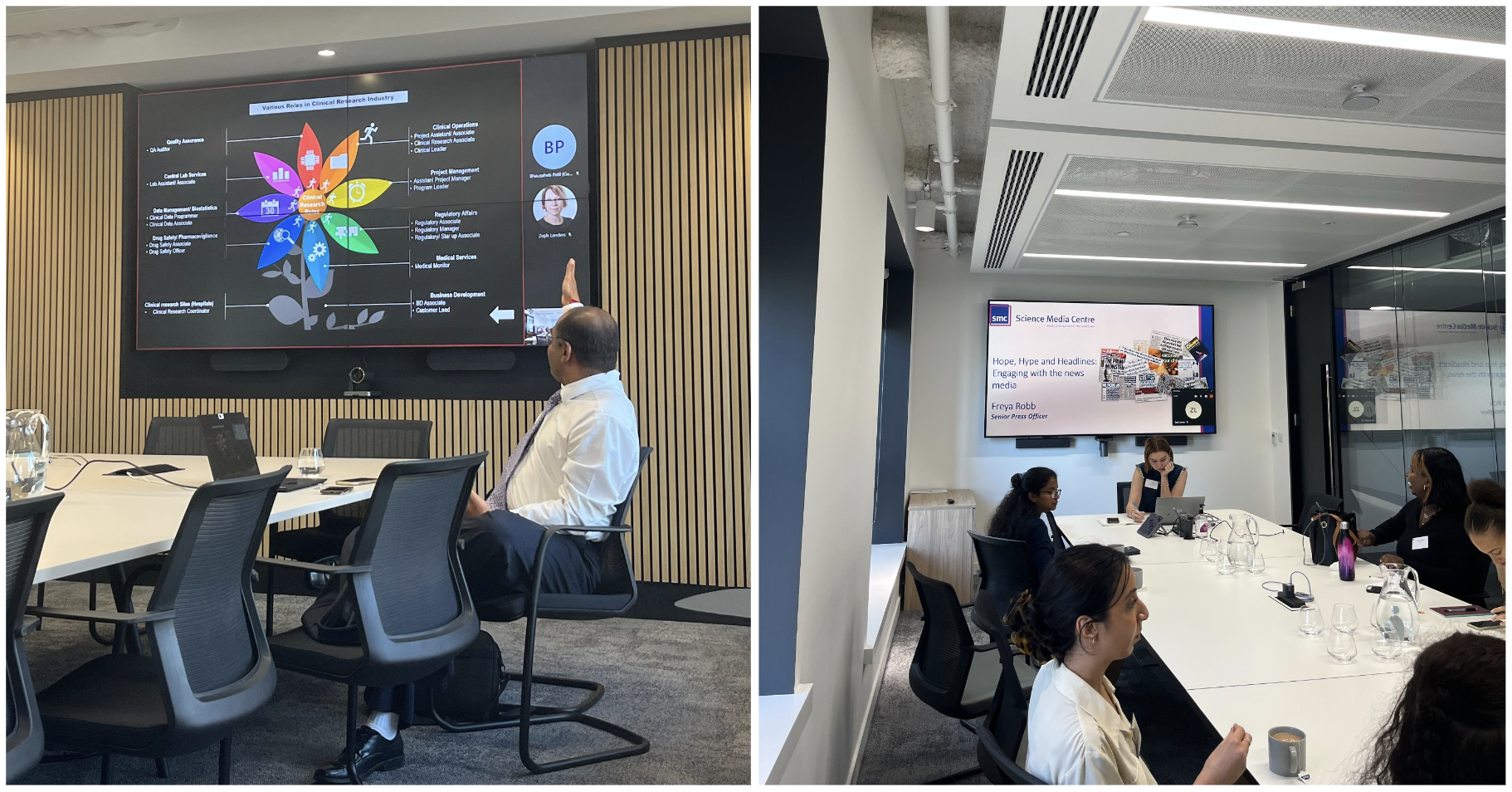 This packed-out day provided the BNA Scholars with a variety of clear new windows into this expansive sector, as well as a wealth of new informal mentoring relationships which will continue to flourish. The opportuntity to hear from and speak directly with leading figures within either an academic research area, industry or another neuroscience sector is a critical way for BNA Scholars to gain the knowledge, skills, and contacts to make it in that sector if they choose such a career path. The British Neuroscience Association is very grateful to ABPI for the time and planning that went into this event.
The British Neuroscience Association is always looking for individuals and organisations with a strong EDI commitment who can work with us to continue building a supportive neuroscience community through the BNA Scholars Programme. If this could be you, please email Sophie Jerrold (Development Director) on sophie@bna.org.uk with approximately 200 words on your organisation's activities and research interests, as well as 200 words on why you want to support the Programme, and what you think your organisation could contribute, including financial support. Please also ensure that you attach your organisation's equality, diversity and inclusion policy, or similar.
You can find out more about the BNA Scholars Programme here, and more about being a Supporter here.