COMPASS Pathways facilitate careers surgery for BNA Scholars
20th Jul 2023
On Thursday 13th July 2023, COMPASS Pathways – one of the BNA Scholars Programme's Supporter Organisations – yet again hosted the BNA Scholars at their offices in central London, this time for a focused careers surgery and research soundboard.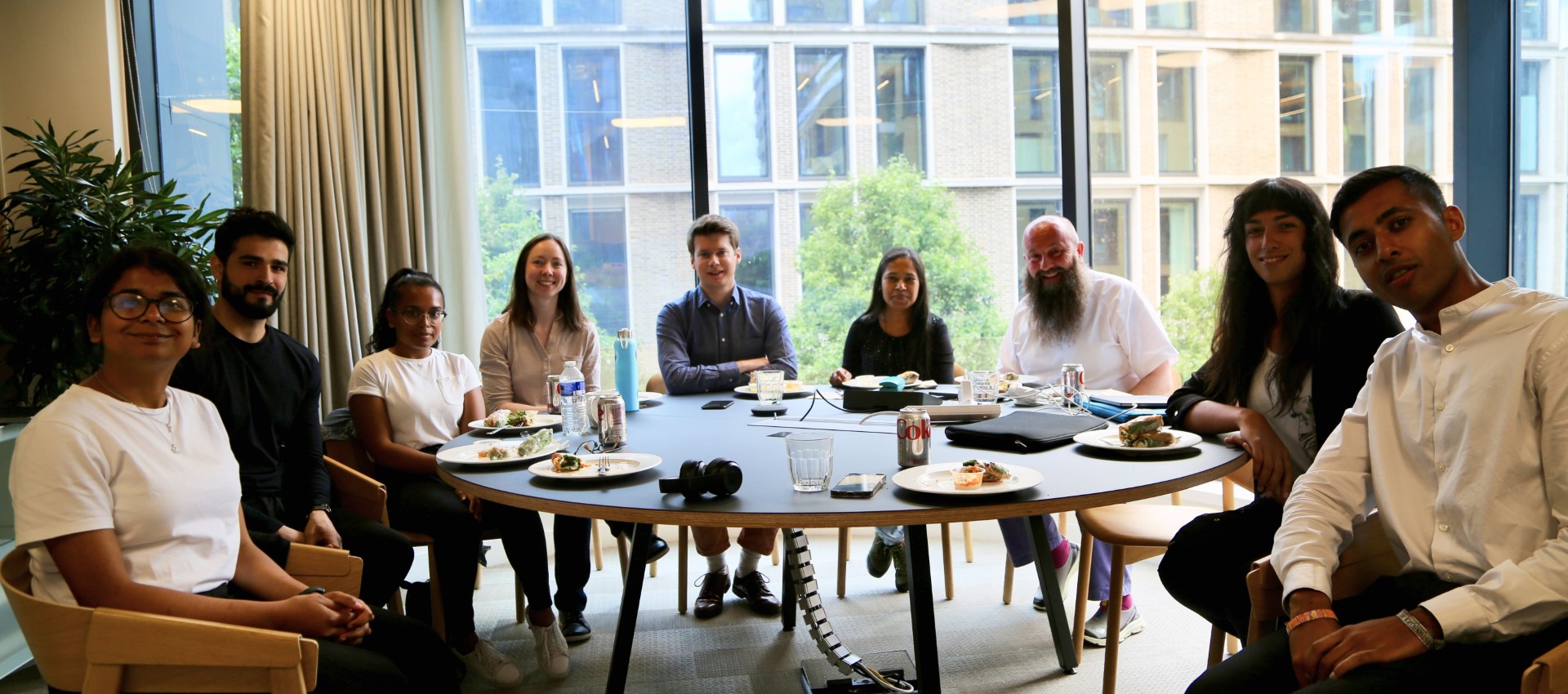 BNA Scholars and COMPASS Pathways staff enjoy an informal lunch together partway through the day
Career development days form a key part of the BNA Scholars Programme, providing involved and interactive opportunities for BNA Scholars to meet directly with specialist academic and commercial sector leaders and discuss cutting-edge research, discover how these organisations operate, and make long-lasting connections that can give them the advantage they need to fulful their career potential in neuroscience. In this case, BNA Scholars returned to the welcoming and familiar offices of one of the Programme's founding supporters – COMPASS Pathways – to meet in a smaller, more focused group with the company's preclinical research team led by Dr. Gary Gilmour.
BNA Scholars were invited to each first present their current research projects and recent findings, with COMPASS Pathways team members encouraging Scholars to discuss their research design, techniques and data interpretation, as well as giving them feedback in the form of questions, suggestions for future extentions, and connections to COMPASS Pathways' own work. This invaluable opportunity to discuss their own work in a relaxed yet formal context supported Scholars to probe their own research and the justifications behind it, hone their presentation and science communications abilities, and develop links between their work and the research that informs psychedelic drug discovery.

After an extended lunch peppered with informal chat about life working in the commercial sector, career pathways both typical and atypical, and particular scientific details arising from the morning's presentations, the group was joined by COMPASS Pathways' Talent Acquisition Manager, Alex Rached. For the duration of the afternoon, Alex facilitated a deep dive into the BNA Scholars' career aspirations, giving specific and in-depth responses to questions covering a breadth of topics: from the practical steps involved in moving between academia and industry in order to do research you're passionate about, to how to network and approach organisations effectively.
The benefits of the day didn't stop with the clock however: the BNA Scholars are now connected with the team (including Alex) at COMPASS Pathways. They continue to receive recommendations for how best to tune their CVs, but most importantly have an open door into a world of friendly expertise at one of the UK's most innovative drug discovery organisations.
The British Neuroscience Association is always looking for individuals and organisations with a strong EDI commitment who can work with us to continue building a supportive neuroscience community through the BNA Scholars Programme. If this could be you, please email Sophie Jerrold (Development Director) on sophie@bna.org.uk with approximately 200 words on your company/academic activities and research interests, as well as 200 words on why you want to support the programme, and what you think your company could contribute, including financial support. Please attach your equality, diversity and inclusion policy, or similar.
You can find out more about the BNA Scholars Programme here, and more about being a Supporter here.