BNA XMAS SYMPOSIUM 2019 - PAIN, PLEASURE AND THE AGONY OF CHRISTMAS
16th Dec 2019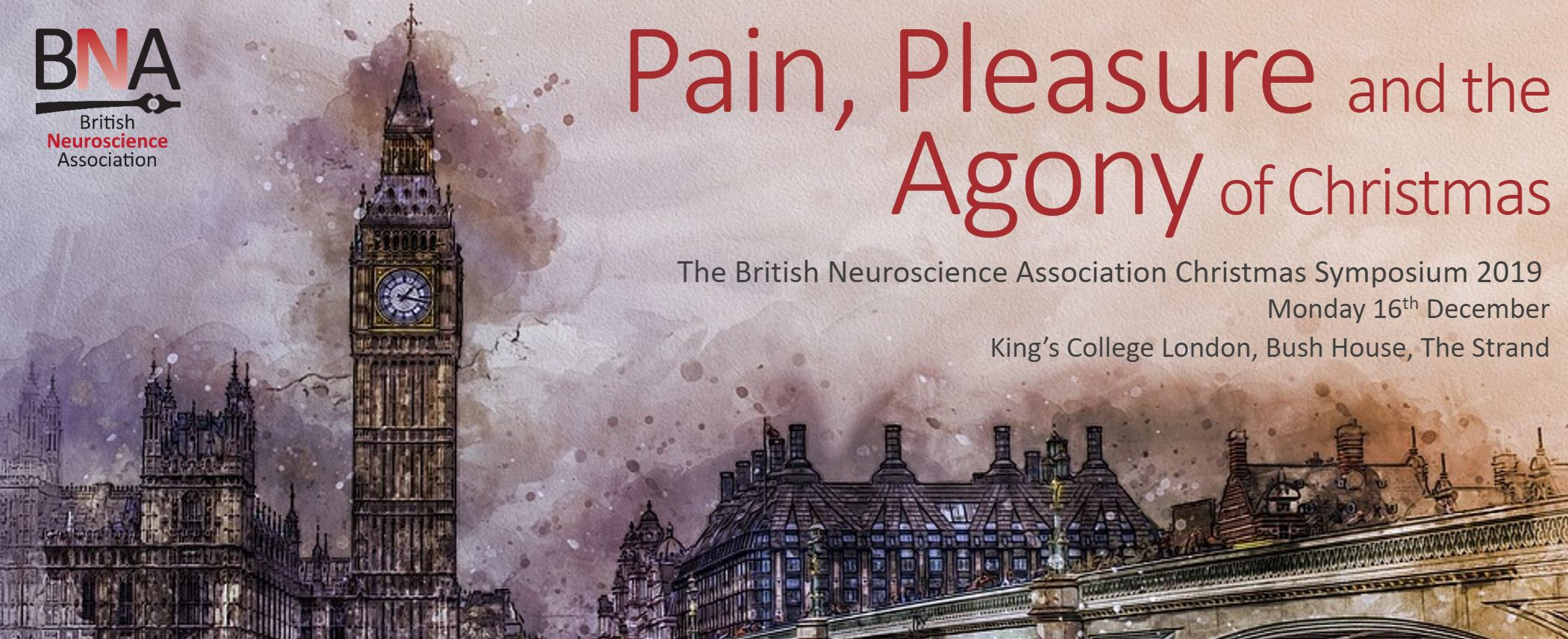 ---
This year, the British Neuroscience Association's (BNA) annual Xmas symposium is all about pain.
Taking place today, Monday 16th December, at iconic Bush House (home of the BBC World Service), King's College London, speakers are attending from a range of institutions across the UK and Europe.
In recent decades, scientists have delved further than ever into both the physiology and the experience of pain, and this symposium – with a programme devised by Professor Irene Tracey, the 'Queen of Pain' – sets out to explore it all.
The symposium kicks off with a 'grand tour' of pain, from its place in our history and culture, through the molecular neuroscience of nociception, the neural circuitry involved, the clinical challenge of managing pain, and the latest treatments available.
Next, we will explore strange pains: phantom limb pain, congenital lack of pain, the placebo effect and the curious relationship of pain with pleasure.
Finally, Professor Irene Tracey will bring together all the components of the symposium in a plenary session and panel discussion.
Why pain?
Pain has long been recognized as something of an enigma by scientists and clinicians, being both a measurable physiological process, as well as deeply personal and subjective.
It is estimated that 43% of the UK population experience chronic pain.
Moreover, pain can also be associated with pleasure, is influenced by cultural expectations, and can be a weapon of war. It can be manipulated, and it is also costly at both individual and societal levels.
See below for the full programme of speakers at today's event.
In addition to all the above, symposium delegates will also get to enjoy a live set by Dr Dean Burnett during the wine reception. Plus, we'll have our Credibility in Neuroscience zone present throughout the day, to discuss all things credibility and open/reproducible science.
Finally, we'll also be celebrating the BNA 2019 prize winners with the prize winners collecting their awards at the presentation services during the symposium.
---
Programme
Time
Title
Speaker
10:20
Welcome
Anne Cooke, BNA CE
10:30

The Story of Pain

Joanna Bourke, Birkbeck
10:55

HCN2: a key ion channel driving pain, migraine and tinnitus?

Peter McNaughton, Kings College London
11:20
Descending pain modulatory systems
Bridget Lumb, University of Bristol
11:45

Treating pain: what now and what next?

Lesley Colvin, University of Dundee / University of Edinburgh
13:10
Student Prizes: Undergraduate and Postgraduate
Anne Cooke, BNA CE
Annette Dolphin, BNA President
13:20
Phantom limb pain
Tamar Makin, University College London
13:45
Congenital lack of pain
David Bennett, University of Oxford
14:10

Pain and the placebo effec

Ulrike Bingel, University Hospital Essen
14:35
From discoveries to treatments
Keith Phillips, Eli Lilly
15:30
BNA Awards: Outstanding Contribution to Neuroscience, and Public Engagement of Neuroscience
Anne Cooke, BNA CE
Annette Dolphin, BNA President
15:40

Pleasure and pain; hedonism and anhedonia

Siri Leknes, University of Oslo
16:05

Cannabis: the pleasure and the pain

Val Curran, University College London
16:30

Plenary and panel discussion with all speakers, led by Irene Tracey

Irene Tracey, University of Oxford

17:15
Closing words
Anne Cooke, BNA CE
17:30

Wine reception for all delegates including a placebo wine effect live demonstration, plus a live set by Dr Dean Burnett, winner of the 'Public engagement of neuroscience 2019' award!
---
---
For any further information on the symposium, please contact Alex Campbell on alex.campbell@bna.org.uk.