Vive la neuroscience! - looking back at FENS 2022 and ahead to BNA2023
15th Jul 2022
Last week (8th - 13th July 2022) saw Paris welcome nearly 8,000 neuroscientists to the first in-person Federation of European Neuroscience Societies (FENS) Forum since 2018, the highest ever number for a FENS meeting and a reflection of the enthusiasm and appetite to meet up with colleagues from across Europe and beyond. Here are some reflections and photos from the BNA team - and an invitation to say what you'd like at BNA2023!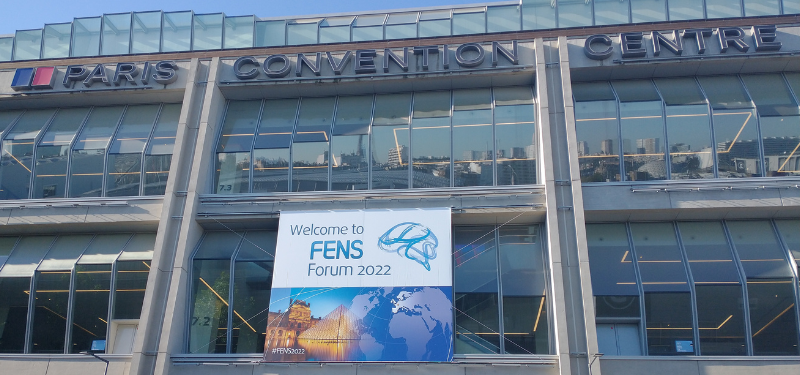 The Paris Conference Centre
Neuroscience galore
The scientific programme for FENS Forums always burst with neuroscience of all flavours, and 2022 was no exception. Thanks and credit goes to Angela Roberts (University of Cambridge) who was Chair of the Programme Organising Committee, and to all the FENS team for putting on a superb scientific meeting.
You can't beat in-person posters
Walking around the (vast!) exhibition hall during the poster sessions illustrated why online poster sessions are so hard to achieve; the air was humming with conversation, flowing from individuals to small groups and back again from aisle to aisle. With nearly 5,000 to choose between, the posters represented an extensive and rich variety of the latest neuroscience research.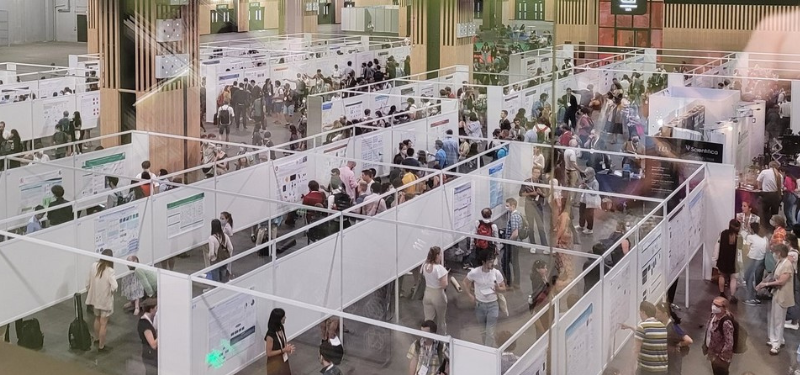 Poster hall at FENS 2022. Credit: R.Roche
The UK and the BNA at FENS 2022
UK attendees made up the third largest group at FENS 2022 – with 687 delegates - preceded by France (1st) and Germany (2nd) and followed by the US.
The BNA was represented by President Rik Henson and President-Elect Tara Spires-Jones, as well as staff Sophie Jerrold, Louise Tratt and Anne Cooke, and of course numerous BNA members! It was great to see you during the social, during the BNA's 'society corner', on the roof garden, at posters and in between sessions. It was also wonderful to see the our BNA Scholars attend the Forum; thank you again to all supporters of this programme to make it possible.
The UK's membership of Horizon Europe was the topic of many conversations, not least in the special session ' Strength through cohesion; Protecting European neuroscience in a turbulent world', where Tara was one of the panelists. (If you haven't yet done so, see how we are campaigning to be an associate member of Horizon Europe).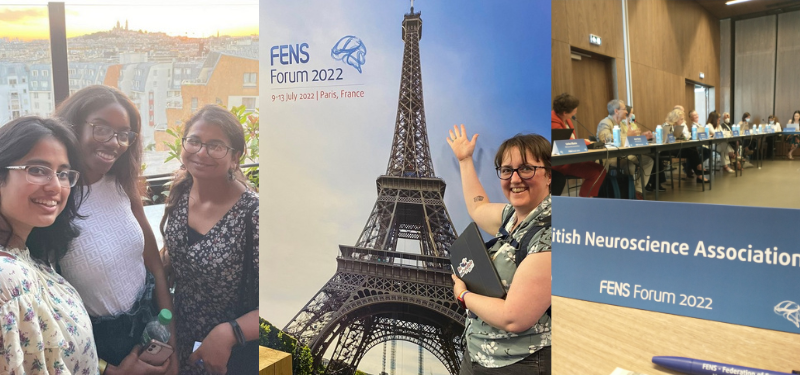 BNA scholars; Tara Spires-Jones; the BNA at the Governing Council meeting.
A wishing tree for equity, diversity and inclusion in neuroscience
We loved the 'wishing tree' in the main exhibition hall.
This was created by ALBA, the, "global network of neuroscientists who are involved in research, education, communication and advocacy, and are committed to diversity, equity and inclusion". People were invited to write their wishes on cards and tie to the tree, which – as you can see below – was festooned with wishes by the end of the Forum.
One wish from ALBA is for you to become a member: free and open to all, if you haven't already then join ALBA here.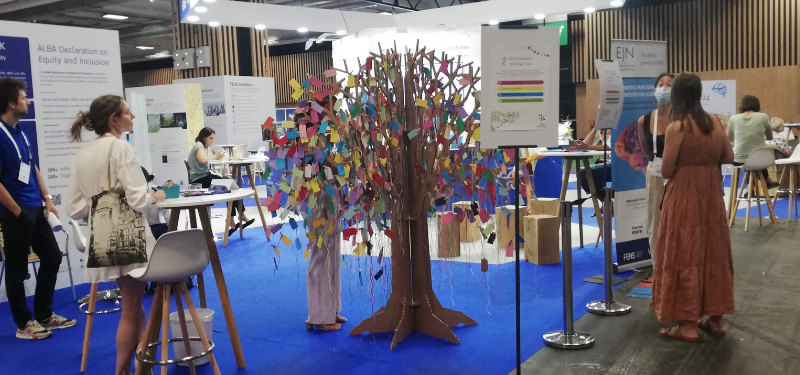 The ALBA wishing tree
The next President
Once all the delegates have departed, the member organisations and the FENS Executive carry on for the FENS Governing Council meeting.
The end of the meeting officially saw Jean-Antoine Girault stand down as FENS President, and Professor Irene Tracy take on the mantel. As a past-Trustee of the BNA, we know Irene will be superb in the role and look forward to seeing FENS go from strength to strength.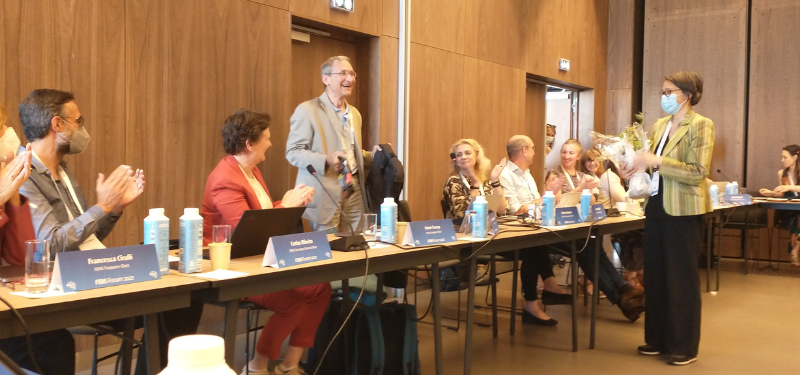 Incoming President Irene Tracy (seated, in red) gives outoing President Jean-Antoine Girault a leaving gift (standing, centre) with FENS Executive Director Tasia Asakawa looking on (standing, right).
Socialising
Like all good science meetings, the socialising was just as important as the research! Something that's hard to capture online is the chance to chat with old acquaintances as well as make new friends, and no doubt that was one of the reasons why the joint BNA - Neuroscience Ireland – Cambridge Neuroscience - Gatsby Foundation social was so well-attended (and, indeed, over-subscribed).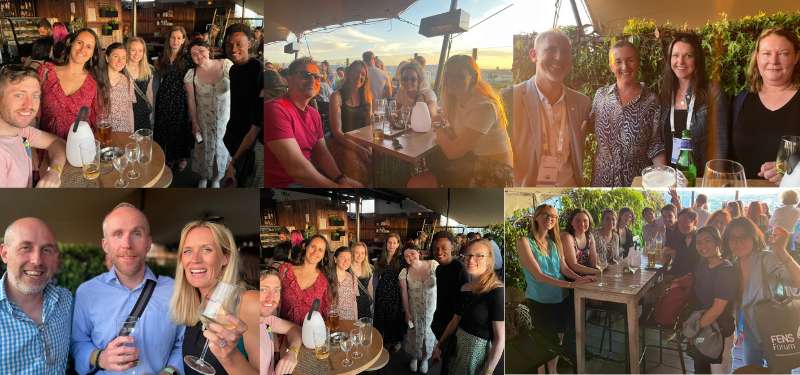 A selection of photos from the joint BNA, Cambridge Neuroscience, Neuroscience Ireland and Gatsby Foundation social, held in a rooftop bar overlooking Paris. Credits: Cambridge Neuroscience
What next?
Did you miss out on FENS this time? Or did you go, and want more?!
The BNA2023 International Festival of Neuroscience is the next big chance to meet up with your neuroscience friends, BNA members, and colleagues from around the world - and it's now only nine months away.
What would you like to see at BNA2023? We are now finalising the scientific programme (plenaries, symposia etc) but there's still the chance for suggestions for other elements - if you've been inspired by FENS, or simply have ideas you want to share, then please send to Louise.Tratt@bna.org.uk or Anne.Cooke@bna.org.uk, and we'll do our best!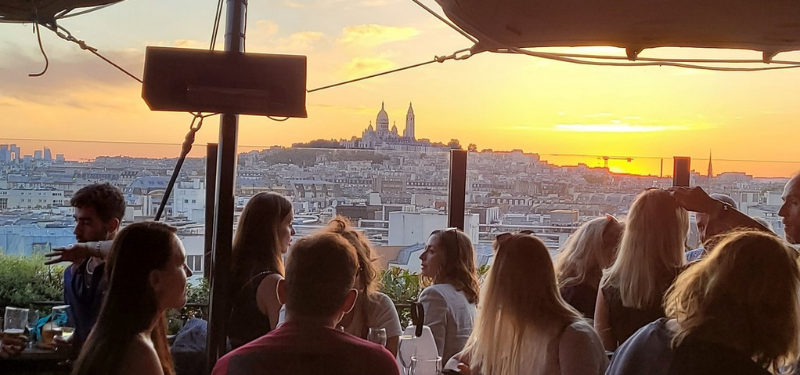 Credit: Richard Roche