'Insight slots' at the BNA virtual booth!
1st Jul 2020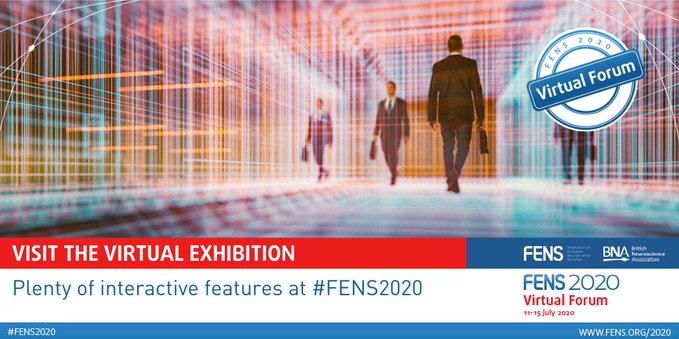 ---
Join us at the British Neuroscience Association (BNA) FENS 2020 virtual booth for some special 'Insight slots'. Opportunities to chat about a range of subjects from credibility in neuroscience and building bridges between industry and academia to science writing and career choices.
'Insight slots' will host special guests at our virtual booth throughout the Forum (11-15 July). See below for our schedule. All you need to do is come along to our booth on the specific date and time and join our virtual BNA chat room. You'll be able to ask our guests questions as well as chat with our team and other delegates.
Don't forget! The BNA team will be available at our booth every day throughout the Forum, 9am-4pm BST. So do come and visit us at any time to chat and discuss any aspects of the BNA and our activities. We look forward to seeing you there!
---
'Insight slots' schedule
12th July 10.30-11.30: Jeff Dalley, Editor-in-Chief, Brain and Neurosciences Advances
Jeff will be available to talk about the BNA journal, from submitting articles and science writing to open-access publishing.
12th July 11.30-12.30: Credibility in Neuroscience, with Rik Henson, Anne Cooke, Joe Clift
We'll be joined by the BNA team, including our President-Elect, Professor Rik Henson, to chat about the importance of credibility in neuroscience and open science practices, and how we can support you to Be InCredible...!
13th July 11.00-12.00: 'Building bridges between industry and academia', Sophie Sykes-Jerrold
Come along to chat with BNA's own Development Director, Sophie, on how we can improve relations between industry and academia to benefit neuroscientists and advance neuroscience.
13th July 13.00-14.00: Careers chat Ruairi Mackenzie, Technology Networks
Q&A chat with special guest Ruairi for advice and insight into a career in science writing.
14th July 10.30-11.30: Credibility in Neuroscience with Anthony Isles
Credibility expert, Professor Anthony Isles from Cardiff University, will be available to answer all your questions about open science practices and how you can help support and promote credibility in neuroscience.
14th July 14.30-15.30: Careers chat with Abcam
Our special guests from Abcam, Matthew Ives, Vincent Foster and Mariana Fontes, can answer all your questions about career options in industry and business.
15th July 10.30-11.30: Get ready for BNA2021 with the BNA team!
Finish a great FENS 2020 by looking forward to the biggest event across Europe in 2021: the BNA Festival of Neuroscience! Join our team members, Anne Cooke and Louise Tratt to whet your appetite for neuroscience by the seaside in Brighton! With a first look at what to expect and how to get involved!
* Please note all times above are BST