Building bridges within psychiatric drug discovery
6th Oct 2021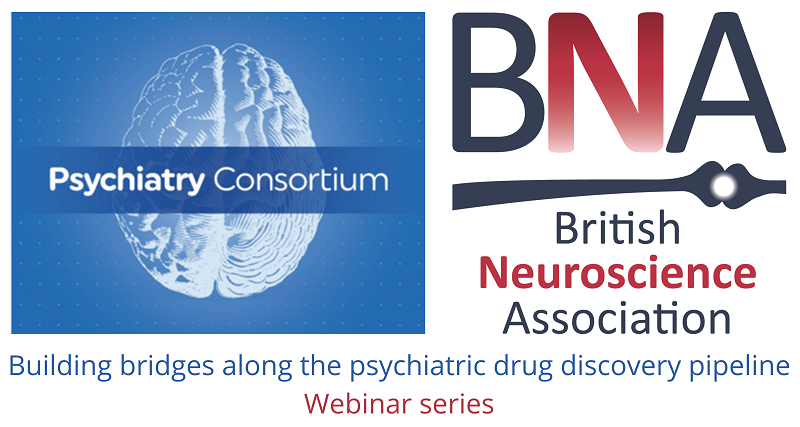 ---
The British Neuroscience Association (BNA) is proud to launch a series of webinars in partnership with the Psychiatry Consortium to highlight the importance of a collaborative process between industry and academia within psychiatric drug discovery.
The 5-part series, 'Building bridges along the psychiatric drug discovery pipeline', will span the whole process, from identifying the unmet patient need and undertaking the basic research required to understand the disease biology, to developing novel treatments. At each stage, experts will provide their perspectives on what we can do to support each other along this process.
The series will aim to illustrate how psychiatric drug discovery needs to be a truly collaborative process if it is to be successful. That if cross-disciplinary partnerships are cultivated far earlier, a project can take on a whole new direction, for the ultimate benefit of all - scientists, patients, and investors.
"Drug discovery is about relationships and human interaction – the more human you can make it, the better"
- Matt Eagles, Head of Patient Engagement, Havas Lynx Group and BNA prize winner for public engagement in neuroscience (2020)
Sophie Sykes-Jerrold, Development Director at the BNA, commented: "At the BNA, we strongly believe that if we can adopt a more collaborative approach to the development of solutions, we will be able to overcome challenges to psychiatric drug development more successfully.
"We hope this series will humanise the research 'story' and provide opportunity to openly discuss the different stages of the research pipeline from all perspectives – from people with lived experience of mental health and clinicians to academic researchers, regulators and industry scientists."
The webinars will be held in November 2021 and March 2022, with the first in the series taking place on 9th November, 1-2pm (GMT).
---
About the Psychiatry Consortium
The Psychiatry Consortium is a strategic collaboration of leading medical research charities and pharmaceutical companies focusing on the challenge of identifying and validating novel drug targets to address the unmet therapeutic needs of the people living with mental health conditions. The Psychiatry Consortium is managed by Medicines Discovery Catapult and supported by Wellcome.