Welcoming Dr Áine Kelly, as incoming NSI President
24th Jun 2019
We're delighted to welcome Dr Áine Kelly as the the new incoming president of Neuroscience Ireland's (NSI), starting this September.
Áine will be taking over from current NSI president, Dr Éilis Dowd, who has been an outstanding leader and advocate of neuroscience in Ireland and beyond for over the past two years.
Áine graduated from Trinity College Dublin in 1995 with a first class honours degree in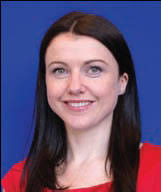 Science, specialising in Physiology. She was awarded her PhD in Neuroscience in 1998 and was appointed to a lectureship in the Department of Physiology in 2002. She is currently Associate Professor in Physiology and Associate Dean of Undergraduate Science Education in Trinity College Dublin.
Áine's research expertise lies at the interface of exercise physiology and neuroscience and her laboratory assesses how modifiable lifestyle factors including physical activity can enhance and protect brain function throughout the lifespan. She is particularly interested in the cellular mechanisms by which interventions such as environmental enrichment and exercise both improve cognition and protect against neurodegeneration and cognitive decline in age by modulating neuroinflammation.
Áine has been an active and dynamic member of NSI for many years, and as NSI's current Outreach Officer, she is heavily involved in the promotion of public awareness and understanding of the brain in health and disease. Of particular note is the leadership role she played in the outstanding public programme at the recent BNA2019 Festival of Neuroscience.
Farewell and congratulations to Éilis, and the warmest of welcomes to Áine!