*BNA COMPETITION* Win a copy of 'Can Neuroscience Change Our Minds?'
18th Nov 2018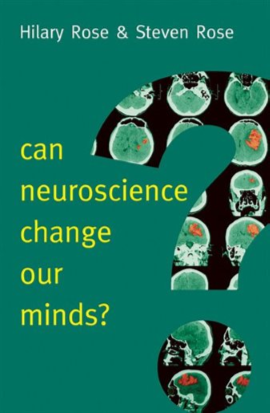 Win a copy of Hilary and Steven Rose's book 'Can Neuroscience Change Our Minds?'
Neuroscience, with its astounding new technologies, is uncovering the workings of the brain and with this perhaps the mind.
The ′neuro′ prefix spills out into every area of life, from neuroaesthetics to neuroeconomics, neurogastronomy and neuroeducation.
With its promise to cure physical and social ills, government sees neuroscience as a tool to increase the ′mental capital′ of the children of the deprived and workless. It sets aside intensifying poverty and inequality, instead claiming that basing children′s rearing and education on brain science will transform both the child′s and the nation′s health and wealth.

Leading critic of such neuropretensions, neuroscientist (and founding member of the BNA) Steven Rose and sociologist of science Hilary Rose take a sceptical look at these claims and the science underlying them, sifting out the sensible from the snake oil. Examining the ways in which science is shaped by and shapes the political economy of neoliberalism, they argue that neuroscience on its own is not able to bear the weight of these hopes.
The British Neuroscience Association (BNA) is delighted to give away five copies of Can Neuroscience Change Our Minds? by Hilary and Steven Rose.
Steven is a founding member, and Honorary member, of the BNA, and will be attending the BNA Christmas Symposium on NEUROMYTHS on 17th December, London. Prize winners will be able to collect their copy of the book at the event if they are planning to attend. If not, a copy will be mailed out after the event.
The competition is open to members of the BNA. (Not already a member? Join us today.)
Click on the link below and complete the form to enter the competition. The competition closing date is midnight on Sunday 9th December.
Terms and Conditions
The entrant must be a member of the BNA at the time of applying for the competition
The winners will be notified on 10th December 2018
The winners should acknowledge the BNA and Steven and Hilary Rose via social media
Full T&Cs are listed on the entry form.
The British Neuroscience Association (BNA) is the largest UK organisation representing all aspects of nervous system research, from single nerve cells to human behaviour and beyond. We welcome everyone interested in the nervous system to get involved; why not join us?