In memory of Robert Balazs
20th Jan 2021
Robert Balazs: 8th November 1923 – 23rd October 2020
We are very sorry to hear of the sad loss of neuroscientist, Robert Balazs,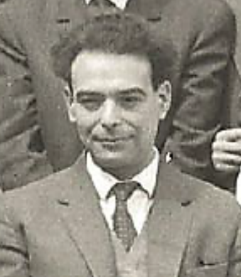 who died in October last year.
Robert was one of the original four neuroscientists who formed the 'Black Horse Group' that would go on to become The British Neuroscience Association (BNA) as we know it today, and he has had a remarkable career in neuroscience - spanning more than six decades - with many scientific achievements.
Born in Budapest, Robert gained his M.D. at Pázmány Péter University, Medical School, Budapest in 1950 and a PhD at the Institute of Medical Chemistry under the supervision of F. Bruno Straub, the discoverer of actin and a pupil of Albert Szent-Gyorgyi, one of the great pioneers of biochemistry.
Having escaped from Hungary during the Hungarian uprising of 1956, Robert came to the UK and joined the Neuropsychiatric Research Centre in Whitchurch Hospital, Cardiff that became later the MRC Neuropsychiatry Unit, becoming the acting Director of the unit in 1972. He continued to work with Derek Richter, a founder member of the International Brain Research Organisation (IBRO) and the Brain Research Association (BRA), which later became the BNA.
From 1975 until his retirement in 1987 Robert was the Director of the MRC Developmental Neurobiology Unit, London. Later he also became Research Professor, St. George's Hospital Medical School, London (1997), Professor Emeritus, University of California, Irvine (1996) and Honorary Professor, University College of London (2005).
In addition to the study of the neurobiology of excitatory amino acids for many years, among the many contributions Robert and his research groups made during the past several decades include the elucidation of the trophic role of glutamatergic neurotransmission and the role of epigenetic factors and more recently the study of pathomechanisms in Alzheimer's disease.
As one of the four founder members of the 'Black Horse group', set up in 1965 to promote informal discussions and exchanges of ideas between neuroscientists, Robert went on to serve on the Council of the BRA – the predecessor of the BNA.
Robert leaves behind two children. Our thoughts are with Robert's family and all his many friends.
---
There will also be a further dedication to Robert and his considerable contribution to neuroscience within the next edition of the BNA Bulletin.