z membership
The BNA membership is a growing learned society of ~2,000 members. There are many benefits of membership, including free or discounted registration for events, discounted Article Processing Charges, the BNA bulletin and much more.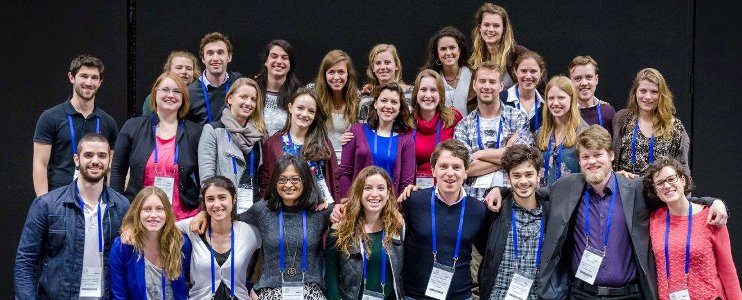 Join the BNA and become part of a group that is the voice of UK neuroscience, as well as instant access to neuroscience networks worldwide: the Federation of European Neuroscience Associations (FENS), the US-based Society for Neuroscience (SfN) and the Society of Biology.
Membership benefits
Our core membership benefits are summarised in the table below.
Please note that benefits vary slightly between different membership categories. See below for full descriptions.
Alongside our core benefits, we also offer a range of special member incentives such as competitions, prize draws and discounts throughout the year - please look out for these notifications in the member eBulletin and via our social media channels!
Be part of a respected national academic society that represents UK neuroscience nationally and internationally
*Opportunity to ask neuroscientists about neuroscience: This membership benefit gives our Associate Members the chance to ask professional neuroscientists questions about neuroscience. This facility is mediated by the BNA Office, and is monitored to ensure reasonable use. Please note that any information provided by the BNA or its members is for informational purposes only and do not constitute medical advice; it is not intended to be a substitute for professional medical advice, diagnosis, or treatment. Always seek the advice of a physician or other qualified health provider with any questions you may have regarding a medical condition.
Membership categories
Membership is open to all in the neuroscience community, both in the UK and internationally, and to all who express a strong interest in neuroscience.
For information regarding use of BNA logos and trademarks, how to refer to your BNA membership status, and how we use your information, please see the BNA Terms of Use, Data Protecition Notice and Disclaimer.
Annual BNA membership fees (£ per annum) are currently:
Undergraduate/Student: £12
Minimum age of 16. Qualifying students need to be undertaking, or preparing to undertake, any bioscience degree in a recognised university or Higher Education Institution. Includes medical students studying for a 5 or 6 year medical degree. A student declaration form, valid for up to six years, will be required in order to prove eligibility.
Postgraduate (Master's/PhD/F1/F2): £24
Postgraduate students undertaking a Master's programme or PhD comprising neuroscience-related content (this can include students on courses other than pure neursocience, e.g. those that have modular choices), F1 and F2 junior doctors, Assistant/Trainee Clinical Psychologist. A student/trainee declaration form, valid for up to four years, will be required in order to prove eligibility.
Early Career Member: £52 (or £48 if paid by Direct Debit)
Individuals are eligible for early career membership for the first five years following completion of their highest degree (e.g. BSc, MSc or PhD) or, for clinicians, the first five years following completion of F2, or for clinical psychologists, the first five years after starting a Professional Doctorate or work as a Clinical Psychologist. After five years early career members are invited to become Full/Full industry members. Please note that early career membership can only be obtained once and cannot be applied should a member return to full time education after time as an early career member.
Full Member / Full industry member: £85 (or £79 if paid by Direct Debit)
People who have interests in the science of the brain and nervous system in a professional capacity, e.g. as a research scientist or clinical practitioner in a university, research institution, hospital, or other clinical practice (Full members) or in a commercial/trading company (Full industry member).
Retired Member: £52 (or £48 if paid via Direct Debit)
For those with interests in the science of the brain and nervous system in a professional capacity, e.g. as a research scientist or clinician, who has now retired.
Associate Member: £52 (or £48 if paid by Direct Debit)
We welcome all those who have a genuine interest in neuroscience, but do not work in neuroscience in a professional capacity, to become an Associate Member. You may be a teacher, mechanic, nurse, or business leader; the brain is endlessly fascinating for everyone!
As a member you will not only be supporting research into how the brain and nervous system work, but receive many benefits including the opportunity to put questions to leading neuroscientists today*.

Gift subscriptions: Why not give the gift of neuroscience to a friend or relative? Contact the BNA Office to ask about getting Associate Membership subscription as a gift.
Please note that Associate members are not entitled to vote or stand for election to become a member of the Council or Committee.
Honorary membership
This category of membership, which confers free access to member benefits, is awarded to a small number of individuals who have made a significant contribution to the BNA. Honorary membership is awarded by the BNA Council and Committee.
Reduced Fees
In line with our Equality and Diversity Policy, the BNA offers reduced subscriptions for up to one year to members who are able to justify that they have special circumstances such as a career break or parental leave. Reductions will be discretionary and their extent will depend on the financial status of the individual. If you believe you qualify for such a reduction, please contact our Membership Secretary.
10% off joint membership with the International Neuroethics Society
The BNA proudly partners the International Neuroethics Society (INS), giving individuals the opportunity to receive a 10% discount on membership fees when signing up for both societies. The BNA Trustees recognise how important it is for neuroscientists to consider the ethical implications of their work and for members of the public to have the chance for informed debate. By partnering with the INS in this way, BNA members have greater opportunities to interact with neuroethicists and vice versa, to the benefit of all. To take advantage of this offer please click here.
If your current membership category is incorrect and needs updating then please contact office@bna.org.uk.
Apply online
You can join the BNA at any time by completing the online application form.
Please note that there is a membership approval period which can take up to four days. Student members will be required to provide a referrer who will then be contacted by the BNA.
If you have any questions please get in touch. We look forward to welcoming you to the Association.