Full / Full (industry) BNA Membership
"I value my membership with the British Neuroscience Association (BNA) for the opportunity it gives me to keep in touch with neuroscientists across the UK and Ireland. The annual meeting is a great place to learn and meet scientists at the cutting edge of science. I really appreciate the efforts the BNA is making around reproducibility and industry engagement."
- Damian Crowther, Head of Early Discovery, Neuroscience, BioPharmaceuticals R&D, AstraZeneca
Examples of ways that BNA membership can grow your enjoyment of neuroscience and benefit you:
---
Eligibility criteria
People who have interests in the science of the brain and nervous system in a professional capacity, e.g. as a research scientist or clinical practitioner in a university, research institution, hospital, or other clinical practice (Full members) or in a commercial/trading company (Full industry member).
Research Group scheme: support your students and team members with BNA membership too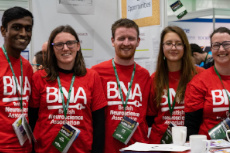 Full / Full (industry) members are eligible for the research group member scheme, which allows you to give up to nine members of your research team extended subscriptions with the BNA, giving them access to bursaries, reduced meeting fees, membership of FENS, and more. To claim extended membership subscriptions for your group, simply complete this short form and we'll do the rest!
Benefits
Our core membership benefits for Full and Full (industry) members are listed below.
Alongside our core benefits, we also offer a range of special member incentives such as competitions, prize draws and discounts throughout the year - please look out for these notifications in the member eBulletin and via our social media channels.
Free or reduced registration rates for all BNA events
Free membership of the Federation of European Neuroscience Societies (FENS) (see how to activate)
Reduced registration fees via FENS-sponsored abstract slots for the Society for Neuroscience annual meeting (read more)
50% discount on fees to publish in the BNA journal Brain and Neuroscience Advances
Free access to e-learning, virtual patients, webinars, and CPD points via ebrain, the world's largest online e-learning resource
Free training materials, webinars, virtual conferences other resources at Neuronline
20% discount on the Human Brain Anatomy course (see here for information)
Eligibilty for the research group member scheme
Free advertising in the BNA Bulletin, eBulletin and website
Free online job listings
Printed copies of the BNA Bulletin (3 per year)
Opportunity to become a BNA Local Group Representative
Up to 50% off Royal Society of Biology Training events
15% discount on all books from Wisepress
Monthly eBulletin with news, offers and events
Free online access to the European Journal of Neuroscience
50% discount on Royal Society of Biology membership for the first two years
10% off joint membership with the International Neuroethics Society
Reduced registration fees for events and meetings run by partnering organisations
Eligibility for Local Group funding (via your own Local Group Representative)
Access to members-only information about travel grants, fellowships, grant-writing and other useful resources
Continuously updated member-only offers e.g. discounts on journals and books
Cost:
£86 per year if paid by Direct Debit (tick the box 'Pay by Direct Debit' at the beginning of the joining form) (NB. Payment via Direct Debit is only available to UK bank accounts. If your bank account is from outside the UK or you are intending to pay in any currency other than GBP, you will need to select the option to pay by credit/debit card)
£95 per year if paid by credit/debit card
Be part of a respected national academic society that represents UK neuroscience nationally and internationally